January 6, 1997

---

Lights On -- The Steacie Prize
by Bruce Rolston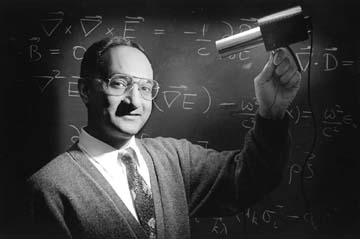 Professor Sajeev John of physics has won this years Steacie Prize for his contributions to the field of condensed matter physics and quantum optics. It is the second year in a row that a U of T researcher has won the coveted prize.
Widely considered to be Canadas most prestigious award for young scientists and engineers, the prize recognizes outstanding scientific research. Since the first award in 1964, U of T has won 10 Steacies, more than any other Canadian institution.
Johns research is on the leading edge of solid state physics and laser physics. He was the first to conceptualize the possibility of creating photonic band gap materials that would be capable of trapping or localizing photons, the building blocks of light, much as a semiconductor localizes electrons. It is this electronic localization ability in semiconductors that the millions of tiny switches in a modern computer depend upon to operate; Johns research holds out the promise of photonic computers, with new capabilities and speed far surpassing their present-day electronic counterparts, using laser light to carry information instead of electric current. In addition to teaching and researching at the physics department, John is a theorist with the Ontario Laser and Lightwave Research Centre, a provincial centre of excellence. In 1995 he won the Canadian Association of Physicists Herzberg Medal, given to the best young Canadian physicist. Last year he was the first-ever winner of U of Ts William F. McLean Award, given to the best young scientific researcher in any field at U of T.
Professor Jimmy Xu of electrical and computer engineering won the 1996 Steacie Prize.
---
[ Go to University of Toronto Bulletin | Back to Sajeev John's Home Page ]