Department of Physics
University of Toronto
C3D: Conductivity in Less Than Three Dimensions
Electric currents and potential patterns in are studied.Resistivity surveying is the common application, but much there are many areas of physics (e.g. superstrings, high technology thin films) where fields cannot propagate freely in the familiar 3 spatial dimensions.
---
(The experiment is currently located in MP239; last write-up revision: Jan. 2008.)
Appendix Figure: Wenner Array Curve for ρ2=infinity
Appendix Data: Resistivity of Aluminum and its Alloys at 300K
Theoretical Master Curve for Wenner Array, κ=1.0 (suitable for importing into spreadsheet): comma-separated columns or tab-separated columns
Python code for analyzing C3D data from undergraduate students Carol McClary and Travis Durjan.
Interesting Outside Link (from US Dept. of Transport Federal Highway Administration) to a discussion of resistivity methods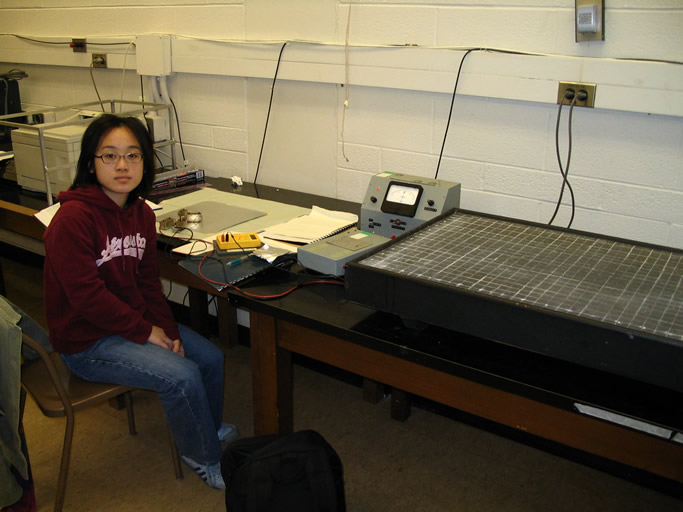 Eugenia Tam, a 3rd year Engineering Sciences in the Physics Option, working on Conductivity in Three Dimensions (24 November 2004)
Last updated on 12 October 2012