Department of Physics
University of Toronto
FTS: Fourier Transform Spectroscopy
The purpose of this experiment is to give students a physical feeling for Fourier transforms, which are used throughout science and engineering. In particular, Fourier Transform Spectroscopy (FTS) is a powerful method for measuring emission and absorption spectra, with wide application in areas as diverse as atmospheric remote sensing, NMR spectrometry, and forensic science.
The interference pattern from a Michelson interferometer is investigated as a function of mirror separation in the interferometer. The resulting interferogram is the Fourier transform of the power spectrum of the source. Computer analysis of experimental interferograms allows one to determine the transmission characteristics of several interference filters.
---
(The experiment is currently located in MP242; last write-up revision: August 2006.)
Additional Resources: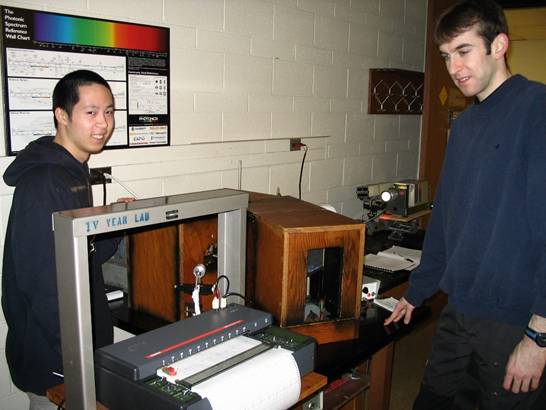 3rd and 4th year Arts and Sciences undergraduates Kevin Sung and Michael Haeffner, working on the Fourier Transform Spectrometer, 28 January 2005.
Last updated on 11 April 2011