Department of Physics
University of Toronto
HEL: Helicons in Metals
Normally, electromagnetic waves cannot propagate through a conductor, but this experiment uses a particular form of circularly polarized EM-wave transmitted through high-purity indium to measure the Hall coefficient and resistivity in a novel way. These "helicon" waves were first discovered in the ionosphere, where they are known as "whistlers", but they also exist in metals. This experiment is both a study of electromagnetic waves and an investigation of the electrical properties of indium.
---
(The experiment is currently located in MP226; last write-up revision: May 2012.)
Additional resources: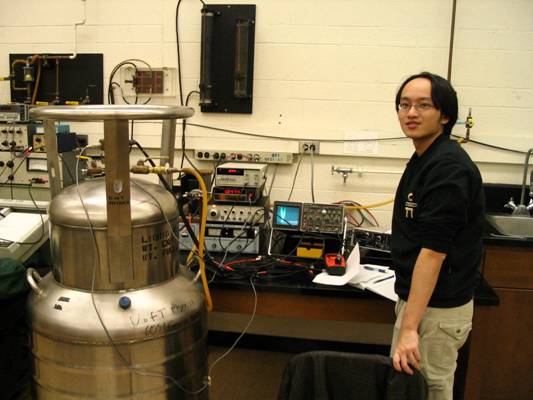 Chang-Yu Hsieh, 3rd year Engineering Sciences undergraduate, works on "Helicons in Metals", 26 November 2004.
Last updated on 30 August 2012