Advanced Physics Laboratory
Advanced Physics Laboratory - General Materials and Resources
Safety:
Safety is very important to everyone involved in the Advanced Physics Labs. Here is a link to the Health and Safety Web Site of the Physics Department, which every student should be familiar with. In particular, there is important information on Emergency Responses, Hazards you may encounter in this course, and Safety Training. Before starting any experiment, please read the provided handout carefully, discuss any potential safety issues with the supervising professor, and use any necessary safety equipment.
Recommended Texts & Notes: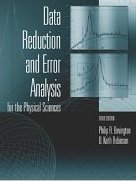 A recommended text for data analysis, which may be a large part of this course depending on which experiments you do, is "Data Reduction and Error Analysis for the Physical Sciences, 3rd edition" by Phillip Bevington and Keith Robinson, Copyright 2002 by McGraw-Hill. It should be available in the U of T bookstore (if it isn't, please tell the course coordinator).
Useful Notes
Introductory Lecture Slides by Prof. Peter Krieger "Practical Introduction to Measurement Uncertainties in the Labs", 10 Sep 2013: PDF Format (1.76 MB file)
Introductory Uncertainty Lecture Slides by Prof. David Bailey, 8 January 2013. PDF Format by Prof. David Bailey, 8 January 2013.
Notes from Professor Thywissen's Data Analysis Talk, 11 Sep 2007: PDF Format (3.7 MB file)
Error Analysis in Experimental Physical Science by Dr. David Harrison: www.upscale.utoronto.ca/PVB/Harrison/ErrorAnalysis/
Some Physics research lab notebook examples: Azuma, Pace
Last updated on 28 August 2013