Department of Physics
University of Toronto
MASS: Mass Spectrometer
In this experiment students learn how to operate a mass spectrometer and the vacuum system associated with it.  Students plot a spectrum of the near-vacuum in the chamber, and investigate the ionization process for two different pure gases. There have been six Nobel Prize winners for work in the development of Mass Spectrometry, the most recent (Chemistry 2002) being for ionization methods for biological macromolecules.
---
(The experiment is currently located in MP226; last write-up revision: Feb. 2005.)
Additional resources: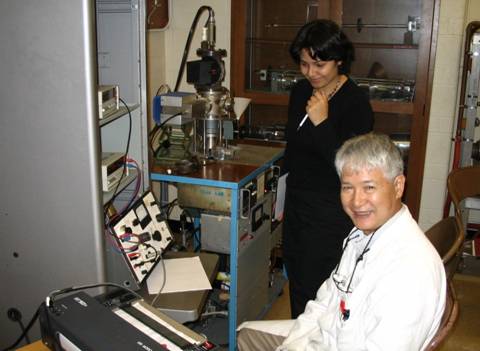 Zeynab Danesh, 3rd year undergraduate, working with the Mass Spectrometer. In the foreground is Tak Sato, former technologist for the 3rd and 4th year laboratories.
Last updated on 28 March 2013