Department of Physics
University of Toronto
RES: Electrical Resistivity at Low Temperatures
This experiment looks at the temperature dependence of the electrical resistivity of three metals which have very different temperature dependencies at low temperatures: a normal conductor, a superconductor and a Kondo alloy. Ever since its surprising discovery by Kamerlingh Onnes in 1911, superconductivity has been one of the major challenges of physics. The Kondo Effect was perhaps the first example of asymptotic freedom observed in nature, and Nobel Prize winners who have worked on its understanding include Phil Anderson, and Ken Wilson.
---
(The experiment is currently located in MP226; last write-up revision: July 2005.)
Appendices in PDF Format and Microsoft Word Format.
Calibration Curves for the particular Thermal Diodes attached to the Lead, Copper and Gold wire probes (Temperature versus Voltage):
The Labview program used to take data in this experiment: Resistivity Experiment.vi. Another Labview program which should be in a sub-directory called "Resistivity LabView Files" is Save Data Files.vi.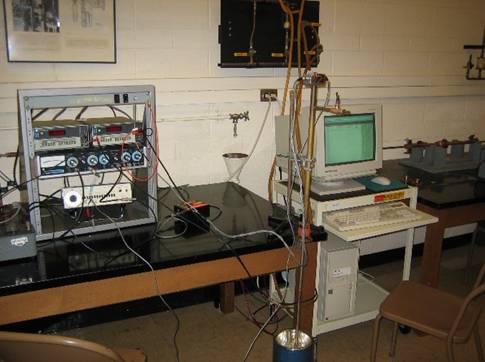 The Resistivity at Low Temperatures experimental setup in MP226. The Copper probe is seen in front of the analysis computer, dipped into a dewar of liquid Nitrogen.
Last updated on 10 November 2010