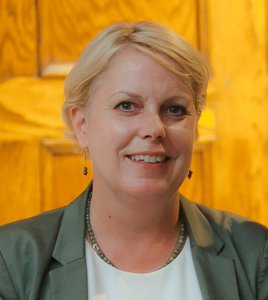 Kirsten followed her interest in science and, in particular, all things space, to pursue undergraduate studies in physics and astronomy. During this time, she was drawn to communicating science, taking opportunities to participate in departmental public outreach events. After first year, she got a job as a Host at the Ontario Science Centre that cemented her career path. A few years after graduating, she took a job as the Astronomy Educator at the California Academy of Sciences' Morrison Planetarium in San Francisco.
During this time, she began a Masters degree in Science Communication, then returned to Toronto, working in energy communications, math education, museum education and in non-profit management. She is now the Executive Director of the Royal Canadian Institute for Science, Canada's oldest, public scientific society. In this role, she oversees one of the longest-running science outreach programs in Canada, running since the early 1900s.
Studying physics provided Kirsten with a perspective that differed from that of a lot of her peers. Physics degrees aren't as common, or weren't at the time, so it stood out and gave her an advantage dealing with certain topics, especially energy and electricity. On a higher level, solving problems by breaking them down to their component parts is a skill she uses every day. As is the collaborative problem-solving that she learned as a physics student. Lab skills made her comfortable setting up equipment, using tools, coding and learning from failed experiments. Also, the Physics & Astronomy Departments did a lot of public outreach events which helped start Kirsten on this career path.
In her current job, Kirsten is the custodian of the Royal Canadian Institute's early publications, dating back to the 1850s. She enjoys combing through them, piecing together the physics of the time as it appeared in those public-facing journals, including during the Presidency of Sir John Cunningham McLennan, in 1916-17, and of course, Helen Sawyer Hogg in 1964-65.
---
Interactions encourages all alumni to reach out and tell us what they are up to.
Email: newsletter@physics.utoronto.ca
Let us know where your physics degree took you!