6.1. Health & Safety Seminar
The annual Health & Safety Training program is given every September to all incoming staff / students by members of the Health & Safety Committee. It provides new personnel with information about the various departmental and university safety policies, programs, procedures and resource materials. The site specific training is provided by your supervisory staff or principal investigator in an experimental laboratory or technical workshop environment. A recorded seminar video is available in the Physics library, Room 211C, a safety quiz is available from Liz Glover, Room 302.
6.2. Service to Disabled Persons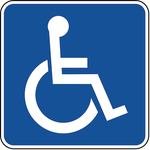 Washrooms are located on the main floor of the Undergraduate Laboratory wing.
Access to Room 102 and Room 103 lecture rooms is via the side Room 104. Similarly, lecture Rooms 202 and 203 can be accessed via Room 204.
For access, contact Physics Reception, Room 302,  phone 416-978-2231.
6.3. Smoking Policy
Smoking is NOT permitted within the Physics building including doorway exit, building stairways or outside on the loading dock area.
6.4. Travelling Safety
Student who have to travel outside the province or country to do field research or even attend a conference must follow the requirements for Reasonable Care. To assess your risk and the precaution to be undertaken regarding Health Insurance Coverage consult the application Guidelines and Field Research Safety Planning Record online at http://ehs.utoronto.ca/home/i-do-field-research/
Laboratories & Technical Services
Anyone working in a laboratory or technical services area must receive the necessary site specific training provided by your supervisor. The Department of Physics has a number of specific hazards and control programs which you as a supervisor or worker should be aware of. Contact the McLennan Heath & Safety office in Room 302 for further details.
6.5.  Asbestos Removals
Removal of asbestos material from building fixtures or equipment must be conducted by trained Facilities and Services personnel in accordance with the University Asbestos Control Program. Contact Sheela Manek in Room MP 328A, phone 978-3307 for a work order form. Contact Peter Hurley, Administrative Officer for building asbestos survey at 978-1726.  The University of Toronto's comprehensive inventory of Asbestos Containing Material in University buildings is available to all U of T students, faculty and staff at https://asbestos.fs.utoronto.ca/
6.6.  Chemical Safety, W.H.M.I.S. and Material Safety Data Sheets
All Physics employees and graduate students who work with chemicals and other hazardous materials must first receive chemical safety and WHMIS training. The Workplace Hazardous Materials Information System (WHMIS) is a comprehensive information system enacted by federal and provincial legislation, which requires workers to be provided with health and safety information about the products they work with. WHMIS provides such information by three main ways:
Properly labelled containers of chemicals. All containers in which chemicals are stored must be properly labelled. Chemicals obtained from a supplier will come with a proper WHMIS label attached to the container. You are required to label workplace containers which are used for chemicals.
Material safety data sheets (MSDSs). An up-to-date material safety data sheet MUST be readily available for every chemical in your workplace. To obtain an MSDS for a chemical:
(a) Contact the chemical/gas supplier.
(b) See the EHS web site under Material Safety Data Sheets for Chemicals at http://ehs.utoronto.ca/resources/hazardous-materials-information/.
(c) Go to the Physics Library computer terminal in Room 211C, Burton Tower, and contact NuRee Lee, librarian, phone 416-978-5188 about internet access.
Worker education and training program. Before working with chemicals, you must be familiar with the components of WHMIS, and the information contained in the booklet, WHMIS: What You Need to Know, which is reproduced at https://ehs.utoronto.ca/resources/whmis-what-you-need-to-know/. The information in the booklet provides you with general WHMIS information. Your supervisor is responsible for ensuring that you receive specific training on the hazards and safety procedures for the specific chemicals you will be working with.
Chemical Spills
Chemical spill kits for hazardous chemicals can be obtained by contacting Alex Cui at phone 978-5232 or go to Physics Stores in Room 060/062.
Chemical Disposal
(a) Waste products must NOT be left unattended at ANYTIME.
(b) All hazardous waste must be properly labelled and kept in the locked chemical storage Room 066A located in the basement. See the Laboratory Hazardous Waste Management Manual at https://ehs.utoronto.ca/laboratory-hazardous-waste-management-and-disposal-manual/.  Contact the Physics stores, room 060/062, Alex Cui,  phone 978-5232 concerning hazardous waste labels and any chemical disposal procedures.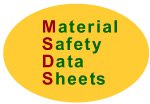 Mercury Spills
Handling Procedures refer to Mercury MSDS
(a) Major Spills phone 978-7000 /978-4821, Environmental Protection Services
      (Hazardous Materials), EHS, 7th floor, 215 Huron Street.
(b) Minor Spills - Obtain a mercury spill clean-up kit from Physics Stores,
     Room 060/062.
(c) Disposal - All contaminated cleaning materials should be labeled and disposed
     of through the Chemical Waste Facility, Room 066A.
(d) Monitoring - Test for mercury vapor can be conducted by contacting EHS at
     416-978-5943, 215 Huron St., 7th floor.
See basement map for details.
6.7.  Cryogenic & Compressed Gas Safety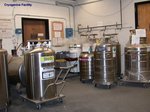 All cryogenic tanks \ moving cart must be kept within the storage spaces designated yellow warning line on the basement floor.
Use compressed gases in a well-ventilated area
Full and empty gases cylinders must are to be chained to the outside wall in the loading dock area.
Follow handling procedures from MSDS regarding skin, clothing and airborne contact.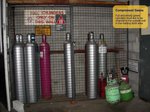 Contact Robert Henderson in basement Room 063B, phone 416-978-8510 regarding potential hazards or concerns. See the Compressed Gases & Cryogenics Training Module.
See basement map for details.
6.8.  Laser Safety
The University Laser Safety committee oversees all standards operating procedures and education requirements for supervisors and laser workers using Class 3b and 4 lasers.
Both user groups must participate in the University's Laser Safety Program prior to operating or working in proximity to these laser systems. This training program will include the following topics and is taken through the EHS :
(1) Legislation & the University Laser Safety Program
(2) Responsibilities
(3) Bio-effects, Laser & Non Beam Hazards
(4) Laser Safety Standards & System Classification
(5) Control Measures, Laser Eye Protection & Medical Surveillance
(6) Laser Accident Reports
All laser workers must accept appropriate instruction from the principal investigator or laser supervisor if training courses are not available.
6.9.  Lift Device Annual Inspection
The Physics Department uses outside companies to inspect the lifting devices.
Contact Physics H&S office regarding their scheduled maintenance program for cranes/hoists.
6.10.  Noise Monitoring
The Physics Laboratories has a noise assessment program for surveying noisy work environments. Monitoring is conducted by EHS, phone 416-978-8321.
6.11.  Radiation Safety
Radiation badges can be obtained through individual laboratory permit holders. Contact Liz Glover, Physics H&S Office, Room 302, phone 416-978-2231 regarding registration and monitoring of these badges within each licensed group.
When using radiation material warn signals must be visible and / or radiation badges must be worn.

Radiation monitoring is conducted by The Office of Environmental Health and Safety. Radiation training is required for all personnel handling radioisotopes, contact Radiation Protection Section, Licensing and Training at 215 Huron Street phone 416-978-2028.
See also http://ehs.utoronto.ca/our-services/radiation-safety/
6.12.  Safety Shoe & Prescription Eyewear Programs
An annual safety shoe allowance and bi-yearly eyewear allowance is available to qualifying employee groups. Contact your employee benefits representative or contact Liz Glover in the Physics H&S Office, Room 302, phone 416-978-2231 or email eglover@physics.utoronto.ca for the necessary application forms.
6.13.  Student Machine Shop Program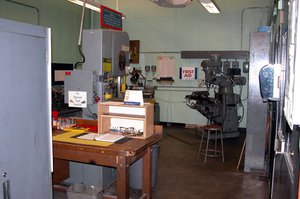 All personnel using student machine shop Rm. 067 must be trained by the technical services staff. Only staff/students authorized by Paul Woitalla will be given a key for accessing room 067. It is the responsibility of the machine shop user to notify their supervisor prior to using these premises. Contact Paul Woitalla to attend Machine Shop Training Classes
See basement map for details.
6.14. Ventalert Fumehood Monitoring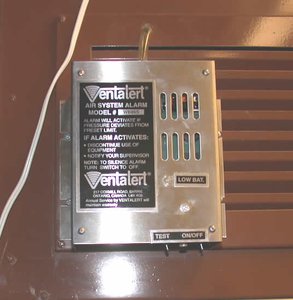 To prevent the spread of fume/vapours to any room occupants the following precautions should be followed:
Do not store unused chemical / equipment in the fumehood or use electrical devices within the enclosure.
Test the Ventalert Alarm system for proper air flow. Contact the OEH&S or call Facilities and Service at 416-978-3000 or off-hours the UofT Police at 416-978-2323 for any ventilation or reliability problems.
6.15. Office Ergonomics
The science of ergonomics examines the relationship between the worker, the workplace and job design. Its goal is to allow work to be done without undue stress on the person performing the work. It takes into account the differences in individual sizes and shapes and their physical and mental limitations. In addition, it evaluates their predictable reaction to various workplace situations.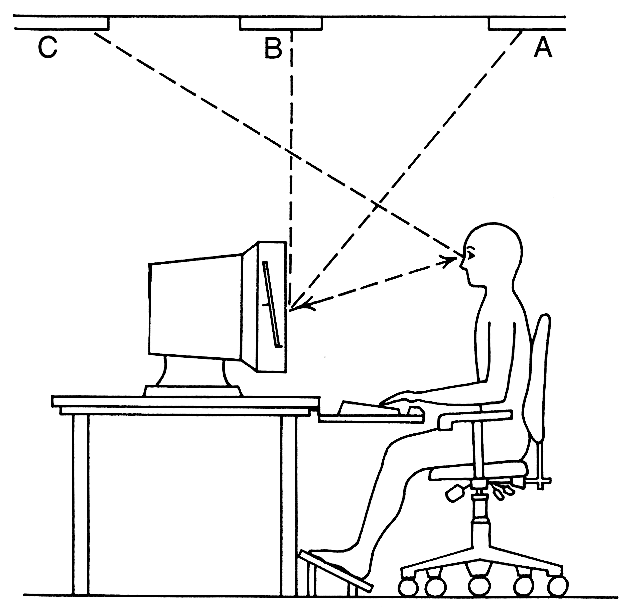 Web site reference http://ehs.utoronto.ca/our-services-occupational-hygiene-safety/ergonomics/ or obtain EHS booklet called Office Smarts: Health & Safety and Ergonomics for the Office. Also see reference on the Ergonomic Safety Training Module.