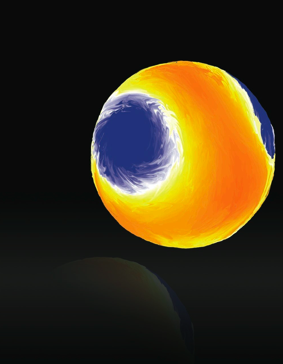 The scientific revolution is often dated back to Copernicus's model of the solar system and before that, the re-recognition by the Western world that the Earth is round. Yet in the strange domain of quantum physics, scientists have once more been studying a flat world for the past several years. Our latest result, published in Nature 457, 67 (Jan 1, 2009), has now shown what riches can be found by circumnavigating the quantum globe.
The three-masted schooner of this new adventure is an odd object called a "triphoton." The photon, a staple of high-power science-fiction weapons, is actually the smallest particle of light -- so small than an ordinary light bulb emits billions of photons in a trillionth of a second. Despite the unimaginably effervescent nature of these tiny particles, modern quantum technologies rely on single photons to store and manipulate information.
A strange feature of quantum physics is that when several identical photons are combined, say in an optical fibre like those used to carry the internet to our homes, they undergo an "identity crisis" and one can no longer talk about what an individual photon is doing; on this voyage there are no Nina, Pinta, and Santa Maria, but merely one ephemeral "tri-ship." This "quantum indistinguishability" is the same effect which lies behind important technologies such as superconductivity, and is believed to be related to the very origin of mass.