Department of Physics
University of Toronto
KNOT: Knots and topological transformations in vibrating chains
How knots tied in metal chains untie themselves when vibrated is way to study how important macromolecules such as polymers and DNA tangle and untangle. Nontrivial knots of one-dimensional objects only exist in three spatial dimensions, which may explain why our universe has three dimensions.
In this seemly simple experiment you will explore the challenging mechanics and thermodynamics of linear chains. The experiment is originally based on Knots and Random Walks in Vibrated Granular Chains, E. Ben-Naim et al., Phys. Rev. Lett. 86 (2001) 1414.
---
(The experiment is currently located in MP239; last write-up revision: September 2015.)
Additional resources:
Possibly useful Python software which you can use/modify:
MMA 1220 accelerometer specifications.
Some example unknotting and knotting videos: Unknotting 5, Unknotting 8, Unknotting 9, Knot formation
Older Windows-only Python software that uses a webcam to measure and plot the radius of gyration of a beaded chain in real time, written by students Jamie Woodbury and Anselm Hui: RealTime_ROG.zip. This is Python 2 legacy code that has not yet been updated to work in Python 3, so a Python 2.7 installation is needed. (If using Anaconda Python, it is easy to switch between Python 2 and Python 3.)
Older MatLab software written by student Nikita Reznik to measure the radius of gyration of a reflective chain as it lies on a black background.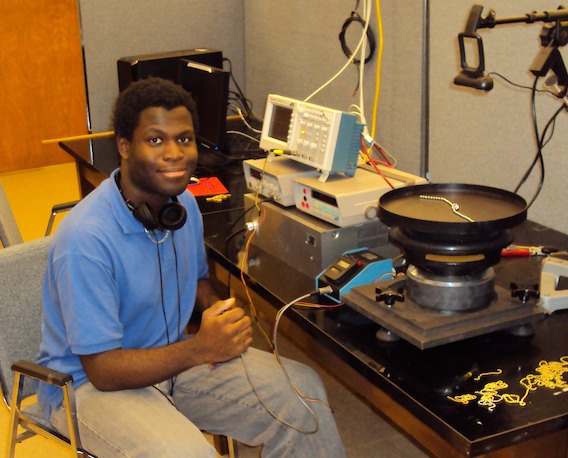 Unknotting simulation from beaded_chain.py.
Last updated on 12 May 2021