Department of Physics
University of Toronto
NEEL: Phase Change in Chromium at the Néel Temperature
The first-order phase transition of Chromium between antiferromagnetic and paramagnetic states is studied. Antiferromagnetic thin-films are key components in the multilayer devices in use for magnetic-disk data storage systems. Louis Néel won the Nobel Prize in Physics in 1970 for antiferromagnetism and ferrimagnetism.
---
(The experiment is currently located in MP239; last write-up revision: January 2018.)
Additional Resources:
The Labview program used to take data in this experiment: Neel Temperature.vi (Last updated December 2006). Another Labview program which should be in a sub-directory called "Neel LabView Files" is Save Data Files.vi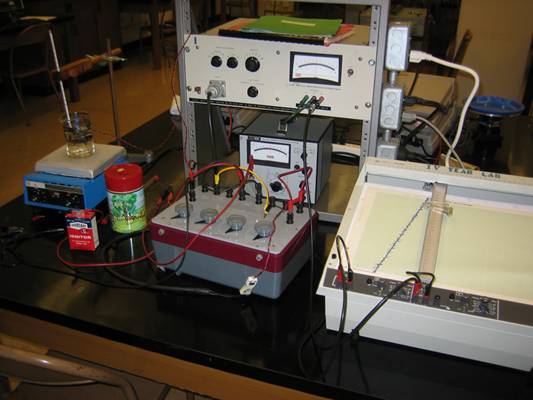 The Neel Temperature setup, showing the beaker which contains the Chromium sample on the far left.
Last updated on 5 January 2018