All DA-15 and DB-9 connectors are connected pin for pin as follows.
Pin 1: Firewire pin 1 (wht)
Pin 2: Firewire pin 2 (blk)
Pin 3: Firewire pin 3 (pnk)
Pin 4: Firewire pin 4 (blu)
Pin 5: no connection
Pin 6: Firewire pin 5 (red)
Pin 7: Firewire pin 6 (grn)
Pin 8: Thermistor inside camera box, NTC 1K Ohm at 25°, one terminal
Pin 9: Thermistor inside camera box, NTC 1K Ohm at 25°, other terminal
Pins 10-15: no connection
---
TEC
The TEC (Thermo-Electric Cooler) cools the CCD to approximately -40°. The device is specified down to 235K. It is Lairdtech model
2-CP-055-065-71-31
, rated at Vmax = 8.6V, Imax = 4.3A, DeltaT @ max = 85º. Suggested operation is at 2.5A (should be 5V) for estimated DeltaT of 49º. With summer cooling water estimated temperature of 20º, estimated TEC temperature is -30º.
---
Pressure Measurement With A Thermistor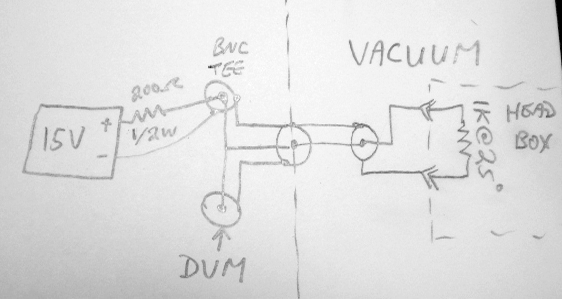 Both the buffer box and the camera box require 1 bar pressure for cooling the electronics. Loss of pressure could cause the circuits to overheat and fail. A thermistor inside each of the two boxes roughly measures the pressure.
The thermistor is in a voltage divider with +15V supply and 200 Ohm pullup. The thermistor dissipates roughly 1/4W. Air convection cools it, a vacuum allows it to heat up more. With 1 bar ambient pressure, turn on the 15V/50mA supply, allow several minutes for the thermistor to stabilize, measure the voltage; it should be about 7.2V. Pump down the chamber. If the box looses pressure, the thermister will heat and the voltage drop to about 6.2V.