Brief CV:
B.S., Yale University (1988); Research Assistant, LKB (then LSH), Ecole Normale Supérieure, Paris (1989); Ph.D., U.C. Berkeley (1994); Chateaubriand Fellow, LKB, Université de Paris VI (1994); NRC Fellow, National Institute of Standards and Technology (1995-96); Asst. Prof., University of Toronto (1996-2001); APS Doctoral Thesis Prize for AMO Physics, 1996; Polanyi Prize, 1997; PREA award, 1999; Assoc. Prof., U of T (2001-2005); Gastprofessor, Univ. of Vienna (Fall 2003); Chercheur invité, Institut d'Optique, Orsay (Spring 2004); Senior Fellow, CIFAR (2004-); Full Prof., University of Toronto (2005-); CAP Herzberg Medal, 2006; RSC Rutherford Medal, 2006; McLean Fellow, 2007; Steacie Fellow, 2007; Fellow of the Optical Society of America, the American Physical Society, and the Institute of Physics (UK); Visiting Scholar, Univ. of Queensland (Nov 2008 - Feb 2009); JSPS Fellow and Visiting Professor (Hokkaido University), March - June 2011; Fellow of the Royal Society of Canada (2016); Visiting professor, Laboratoire Kastler-Brossel, Ecole Normale Supérieure, Collège de France, Institut d'Optique, March - June 2018; Co-Director, CIFAR programme in Quantum Information Science (2017-); Visiting professor, Sapienza Università di Roma (Sep 2019 - Dec 2019).
Click here for scientific genealogy
Click here for academic ontogeny


Links to a little light reading (eine kleine Lichtphysik)
My (paean to)/(rant about) LIGO:

I keep pondering how to explain to people why so many of us remain so excited about this LIGO announcement, excited to...

Posted by Aephraim Steinberg on Friday, February 12, 2016

May 2016: a new MOT is born, on the Rydberg-EIT-LMI apparatus!
(Cf. the original 1997 MOT from the predecessor apparatus)

April 2016: Our first observation of Rydberg-atom EIT -- in layman's terms, Rubidium atoms blown up thousands of times their usual size.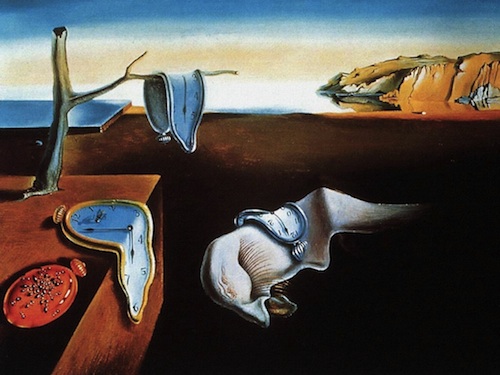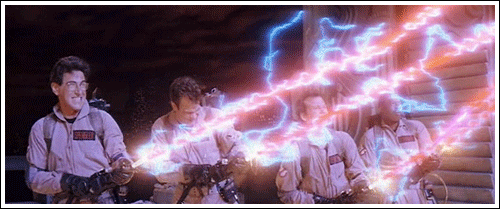 What happens when you cross the beams: light-light interactions at the single-photon level
(Or watch the video abstract by Research Square.)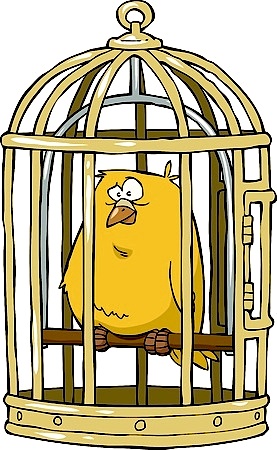 A Canary in a Quantum Coal Mine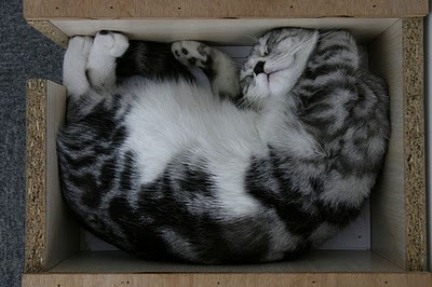 Putting the squeeze on Schrödinger's cat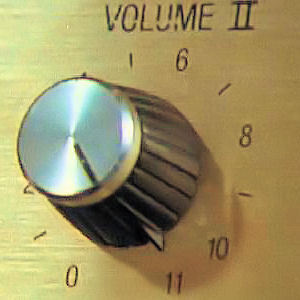 This One Goes To Eleven.
(The story of our latest paper on quantum metrology.)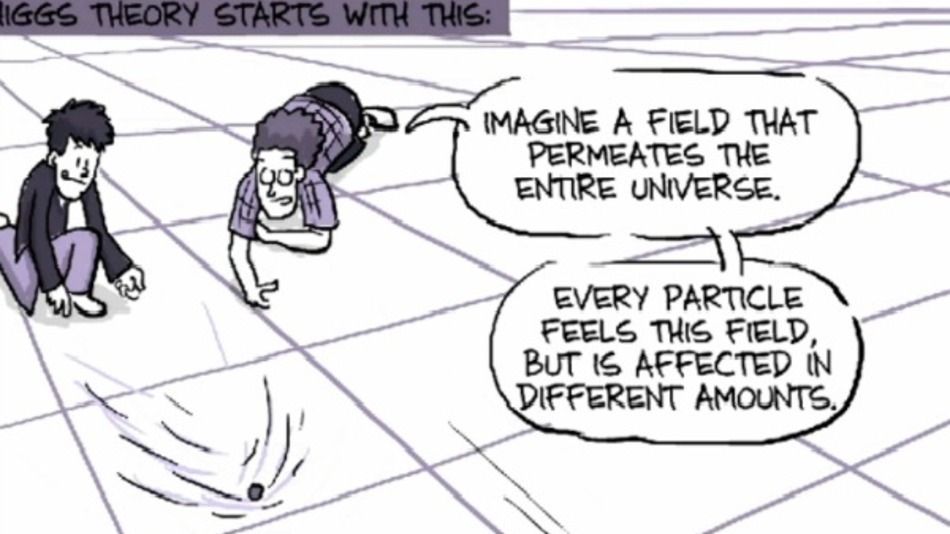 The Search for the "Bloch Boson"
(The story of our recent paper on Bose-Einstein condensates.)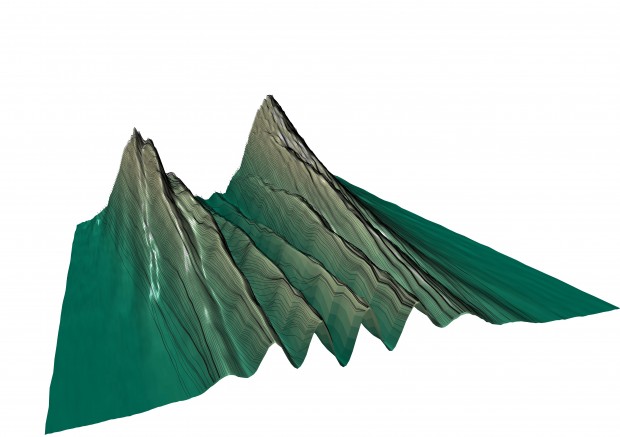 The BBC's description of our measurement of photon 'trajectories';
Chad Orzel's more scientifically accurate yet readable description of the same work;
Mitch Benn's musical(!) rendition of the same work;
and the full paper.
(See also this earlier paper with Howard Wiseman.)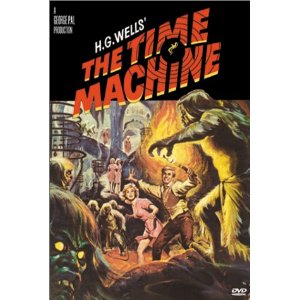 Justin Mullins's New Scientist article on our work on closed timelike curves;
and
the original article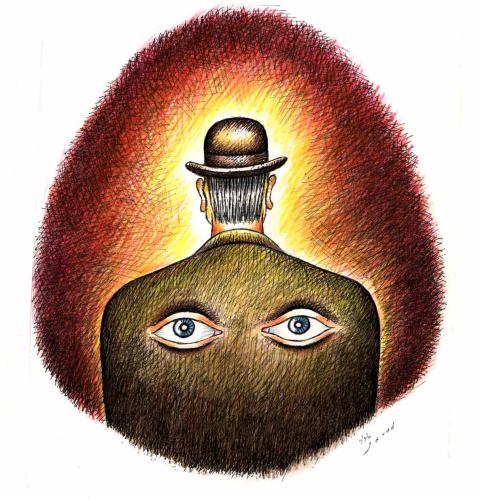 When you see without looking, can you trust what you see?;
a very funny take on this in the Toronto Star;
and the "physics and philosophy" section(!) in the Economist; oh, and, the technical article if you're up for that.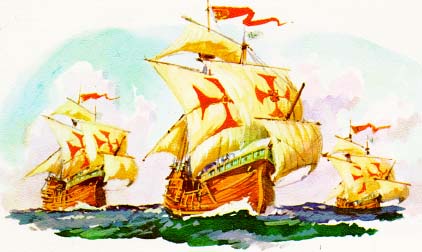 "Mapping a new world for light";
and the actual article.
Some miscellaneous recent news (see also full list of publications!) :
February 2020: Jbb-ubb! Edwin, Stacey, et al. have published their work on quantum fully homomorphic encryption in Phys Rev X! Pbatenghyngvbaf!
December 2019: Josiah et al.'s paper on huge optical nonlinearities using Rydberg atoms has been published in Physical Review Research! Congrats, every one!
November 2019: Edwin et al.'s demonstration of quantum fully homomorphic encryption has been accepted in PRX!
September 2019: Kent, Edwin, and Hugo's theory paper on practical sub-Rayleigh imaging using phase-sensitive measurements has been published in the New Journal of Physics!
September 2019: Ramón is off to Leticia Tarruell's group at ICFO (Barcelona) -- best wishes on the next chapter on your career!
Fall 2019: Join us in welcoming Jack Hong and Batuhan Yilmaz as new M.Sc. students in the group!
14 August 2019: Congratulations to Ramón on successfully defending his PhD!
July 2019: Our article on "Interpreting weak value amplification with a toy realist model" was published at Phys. Lett. A (doi.org/10.1016/j.physleta.2019.06.010).
10 August 2018: Our article on measuring sub-nanoKelvin temperatures (and observing tunneling in the process) is out! Congrats to Ramon, David, and Shreyas!
1 December 2017: We published a new paper on macroscopic quantum tunneling escape of Bose-Einstein condensates with Lincoln Carr's group.
27 November 2017: We published a paper presenting our view of the specific conditions under which weak-value amplification may be of practical use for precision measurements.
25 April 2017: We are featured in the new episode of Through the Wormhole with Morgan Freeman, annoyingly entitled "Is The Force With Us?" It talks about everything from LIGO to entanglement to loop quantum gravity.
It was fun (if exhausting) to see how the sausages get made, and though I could have done without all the misleading Star Wars references, and am always a bit skittish about how to describe our "surreal trajectories" work without giving people the wrong idea, at least they didn't make me work with the clown (seriously, there's a clown). Check it out.
27 February 2017: Matin's experiment using postselection to amplify the nonlinear-optical effect of single photons has appeared in Nature Physics (although I strongly recommend the arXiv version instead) -- congratulations to all the co-authors!
15 February 2017: Our experiment showing how to use phase information to evade Rayleigh's curse has appeared in PRL -- congratulations, Edwin and Hugo!
11 February 2017: Our paper on interaction-assisted tunneling of a Bose-Einstein condensate has appeared in PRL! Congratulations to Shreyas and the whole gang!
9 January 2017: We welcome Kent Bonsma-Fisher, the newest member of the group!
20 December 2016: My Physics Today column about Ryo Okamoto's beautiful quantum-shutter experiment has come out.
15 December 2016: Our paper on Quantum Thermometry has appeared in Scientific Reports!
21 June 2016: Alum Dylan Mahler has been appointed Lecturer of Quantum Engineering at the University of Bristol! Congratulations, and best of luck in your new position!
2 May 2016: Congrats to Josiah, Shaun, and Alex on observing cold Rubidium atoms in their new chamber for the first time!!! Now we're ready to do some science! (See above for photo; and compare the previous iteration of this apparatus, back in 1997!)
28 April 2016: Our paper on how well EIT-based nonlinearities work even for pulses shorter than the EIT response time appeared today in PRL! Congrats to Greg, Amir, Matin, and all the rest of the group!
24 April 2016: Scott Aaronson and I were interviewed on the CBC about quantum computing, and given substantially more time than in this Macleans's attempt to revisit the Justin Trudeau"Quantumgate".
20 April 2016: Josiah has succeeded in observing a Rydberg-EIT signal in our new setup! (See above for photos, and Clint Eastwood's explication of the effect.)
19 February 2016: Nice work, Dylan and Lee -- and Kent, Lydia, Kevin, and Howard! Our paper on reconstructing "surreal" Bohmian trajectories has appeared in Science Advances
21 January 2016: Congrats to Amir and Greg on the publication of their work showing that narrow EIT windows can offer an enhancement in nonlinearity even for broadband pulses!
15 January 2016: Congratulations to Shreyas Potnis on a successful PhD defense, and also the first in the new tradition of public PhD defenses at U of T Physics!
18 November 2015: Congratulations to Greg Dmochowski on successfully defending his Ph.D. thesis!
10 November 2015: Congratulations to alum Krister Shalm on submitting not one, but two, papers (A and B) on loophole-free tests of local realism (I guess even if you don't leave any loopholes, you still can't be too careful)! This may not earn him the Nobel Prize I keep predicting one of my students will earn (see family tree), but I think he's got a good shot at a pretty nice share of a Breakthrough Prize! Congratulations on taking part (and a leading role) in a truly historic set of experiments, Krister!
28 October 2015: Congratulations to Matin on successfully defending his Ph.D.!
24 August 2015: Amir, Matin, and Greg's work on observing nonlinear optics at the single-photon level has appeared in Nature Physics, DOI: 10.1038/nphys3433 .
(See also the video abstract by Research Square.)
27 April 2015: Congratulations to Lee, Chao, Dylan, Alex, John, and Marco on our first paper in Optica, this work on stimulated-emission entanglement tomography!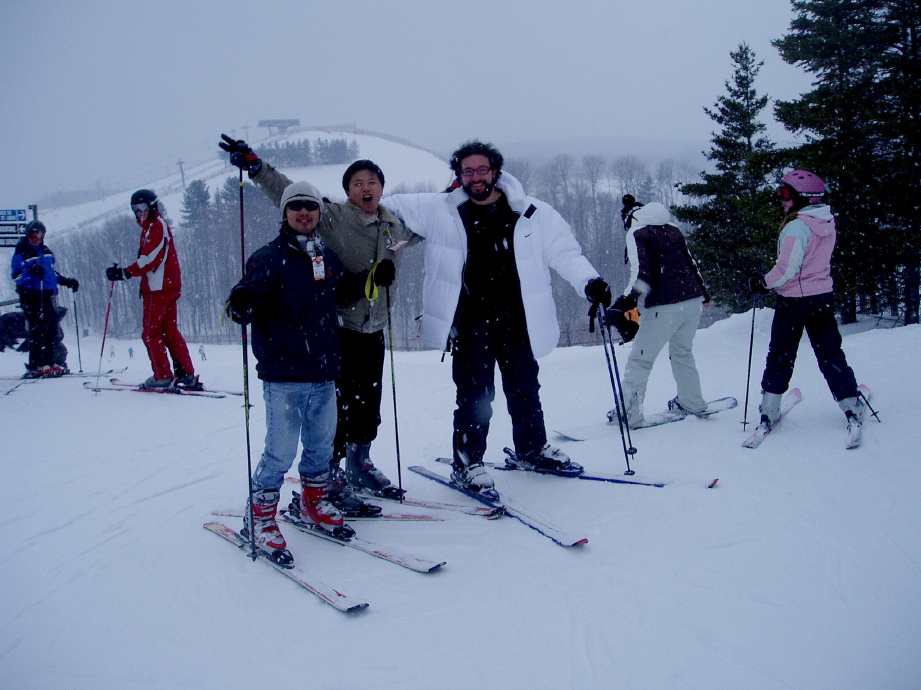 Follow this link for older group news & links
Group members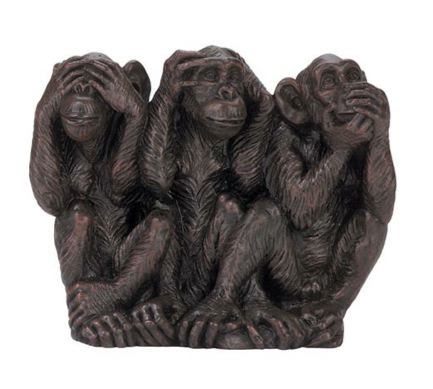 (For some old group photos, scroll down to Reza's photos, and for a more recent one courtesy of Big Brother, click here!
The pictures of our Chinese missile test are available here.)
The trick of being a quantum information scientist is to control a system without seeing what you're doing (since any observation would disturb the system.)
We are always looking for bright students and postdocs who are excited about probing the fundamental issues in quantum mechanics as well as investigating the possibilities for new technologies based on novel quantum effects.
A list of our present and past group members can be found below, with some links.


Research

Our main interests are in fundamental quantum-mechanical phenomena,, and particularly quantum information processing and the control & characterization of the quantum states of systems ranging from laser-cooled atoms to individual photons. We are members of the Quantum Optics Group at U of T, and the Center for Quantum Information and Quantum Control (CQIQC). I am also a Senior Fellow and co-Director of the Quantum Information Science programme of the Canadian Institute for Advanced Research and an affiliate member of the Perimeter Institute for Theoretical Physics.
Our projects are supported by NSERC, CIFAR, FQXi, and the Fetzer Franklin Foundation. We have also enjoyed support from DARPA, CFI, PREA, and ORDCF, QuantumWorks, by the Canadian Institute for Photonics Innovations, Photonics Research Ontario, and Grumman Aerospace at various times.

Our experimental program is two-pronged, using both nonclassical two-photon interference and laser-cooled atoms to study issues such as quantum information & computation, decoherence and the quantum-classical boundary, tunneling times, weak measurement & retrodiction in quantum mechanics, and the control and characterisation of novel quantum states. For more information, scroll down to a text description of our present research topics and partial reverse-chronological list of publications, or click on one of the following pictures to access more details about some of our research areas.


Some sorted links to selections of our papers & talks: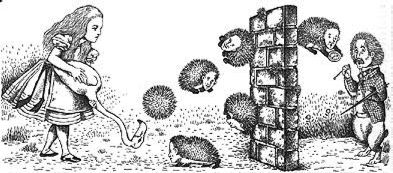 Some general overviews of our research, quantum info, and problems in quantum measurement
Research projects
Specific projects of interest at the present time include:
Characterisation and control of coherence of ultracold atoms

Cold atoms trapped in optical potentials can be used to store quantum information in the discrete energy levels of their centre-of-mass oscillations. Groups around the world are studying using such optical lattices for quantum information, and one of the biggest stumbling blocks is likely to be the poorly-understood nature of the loss of quantum coherence.
Investigating decoherence mechanisms
Developing pulse-echo and other error-control techniques
Implementing quantum control of quantum chaos
Studying the possibility of spontaneous coherence induced by tunneling

Quantum measurement and quantum information with entangled photon pairs

We have several systems for the generation of pairs of photons with strong quantum correlations, and work on the development of newer, more powerful sources as well. Such pairs have been the workhorse of most tests of quantum nonlocality, and at the heart of many proposals for quantum cryptography and computation.
How much does quantum mechanics allow one to conclude from measurements about past (unmeasured) events? Can one particle be in two places at the same time?
How can our recently developed "two-photon switch" be used in quantum-information applications?
How can one generate entangled states of 3 or 4 photons, and to what end?
How can one most fully characterize the evolution of a two-photon quantum system, and use this characterisation to develop error-correction methods?

Linear-optics for quantum information

Many quantum-information tasks can be carried out using single photons in linear optical interferometers. While not on their own scalable, in the computer-science sense of the term, these systems could be crucial, at the few-qubit level, for near-term implementations of secure quantum communications links.
How well can generalized quantum measurements ("POVMs") be used to enhance our ability to distinguish between imperfectly distinguishable states? How can this be applied to quantum communications and other interesting tasks?
Can linear-optical quantum computing be practically extended to 3 or 4 or 5 qubits, and applied to interesting communications tasks?

Bose-Einstein condensation (BEC)

Since the first demonstration in 1995 of the Bose-Einstein condensation of trapped alkali atoms below one one-millionth of a degree above absolute zero, dozens of groups worldwide have set up similar systems. We believe that such a revolutionary source of atoms will play a role in future atomic-physics research akin to that played over the past 40 years in optics by the invention of the laser.
We first generated BEC of 87Rb in a TOP trap in March, 2005.
We are currently studying atom interference patterns generated by collisions of Bose-condensed atoms with optical barriers. We have also developed a dipole trap in order to study condensate collisions in a truly 1-dimensional geometry. In addition to studies of quantum scattering and tunneling times (see below), we are investigating the application of these geometries to the performance of quantum state tomography on expanding degenerate Bose gases.
What truly quantum (beyond-mean-field) effects have observable signatures in the finite-temperature quantum hydrodynamics of this system?
Application of this coherent atom source to novel atom-optics experiments, notably to study the question of what happens when you try to observe a tunneling particle in the "forbidden" region. How long does tunneling take? Where is the particle while it tunnels? What is the impact of measurement or decoherence on these issues?
Further studies of quantum chaos and other features of time-dependent potentials using this "atom laser"-like source.


For more information, feel free to download the papers and/or talks listed below, or to contact us directly.



Publications
(For an older publication list, with several links, go here)

SOME (MORE OR LESS) RECENT PAPERS Series of lectures on Experimental Issues in Quantum Measurement, Vienna, Fall 2003.
Nonlinear optics at the quantum level and quantum information in optical systems.
Quantum Process Tomography in an Optical Lattice, Stefan's talk at DAMOP 2003.
Tunneling-Induced Coherence in Optical Lattices, Samansa's poster for the 2003 Cross-Border Workshop.
Optical implementation of the Quantum Box Problem, QELS 03 talk by K. Resch, J. Lundeen, and A. Steinberg.
An Experimental Implementation of Hardy's Paradox, QELS 03 talk by J.S. Lundeen, K.J. Resch, and A.M. Steinberg.
Quantum algorithms in the presence of decoherence: optical experiments, QELS 03 talk by M. Mohseni, J. Lundeen, K. Resch, and A. Steinberg.
Playing Games With the Information in Atoms and Photons, one version of a colloquium I've been giving in 2003 describing a number of our ongoing projects.
Quantum Information With Photons and Atoms, talk by A.M. Steinberg at the Physics of Quantum Electronics conference (2003).
Motional Quantum State Tomography on Atoms in an Optical Lattice, poster by S.H. Myrskog, J.K. Fox, and A.M. Steinberg (2002).
Optical Implementation of the Deutsch-Jozsa Algorithm in the Presence of Noise, poster by M. Mohsen, J.S. Lundeen, K.J. Resch, and A.M. Steinberg (2002) (also available in pdf format).
Amplification of Superluminality,presentation at ITP Mini-Workshop on Quantum Optics (2002) by A.M. Steinberg.
Efficient 1-D velocity selection in laser-cooled atom clouds, S.H. Myrskog, J.K. Fox, A.M. Jofre, L.R. Segal, S.R. Mishra, and A.M. Steinberg, at the 8th Rochester Conference on Coherence and Quantum Optics, June 2001.
Kevin's talk on ``Coherence conditioned on a single photon'' at the International Conference on Squeezed States and Uncertainty Relations, Boston, 2001.
Experiments with Entangled Photons, lecture by A.M. Steinberg at the May 2001 Fields Institute Summer School in Quantum Information Processing.
Transparencies for Jeff's talk on Nonlinear Optics With Less Than One Photon at the Snowbird Winter Conference on Quantum Electronics, January 2001.
We presented a poster at the Euroschool on Bose Condensation and Atom Optics in July, 2000 on our velocity-selection work and plans to observe atomic tunneling.

We presented a poster at DAMOP 2000 on an ongoing experiment to test 100% Reflection in Less Than No Time at All.

We presented a poster at the Gordon Conference on Dynamics of Simple Systems in the summer of 1999, discussing Velocity-Selection of Ultracold Atoms .
We presented two posters at the 16th International Conference on Atomic Physics in August, 1998. One was entitled Ultra-Cold atoms for investigations into atomic tunneling, and the other was Quantum Interference with Femtosecond Photon Pair Pulses.

Research Associates, Postdocs and Visitors
As of May 2016, Aharon Brodutch has joined us as a CQIQC Prize Postdoctoral Fellow.

As of Jan 2017, Kent Bonsma-Fisher has joined us as an NSERC postdoctoral fellow; he was on secondment to Oxford for the first few months of 2019, and is now officially employed by NRC, but working with our group for the rest of 2019.

Oktay Göktas spent 2017-2018 with us during his sabbatical, and then founded a quantum-information startup, AgnostiQ, where he continues to collaborate with some group members on quantum software.

(Postdoctoral opportunities available)





Graduate Students
Hugo Ferretti: Entangled photons and quantum metrology

Josiah Sinclair: Quantum light-matter interfaces and Rydberg blockade

David Spierings: Tunneling times and barrier interactions

Edwin Tham: Quantum channels, quantum thermometry, and quantum-inspired imaging

Arthur Pang: entangled photons and Bohm trajectories

Noah Lupu-Gladstein: entangled photons and the pigeonhole principle

Daniela Angulo Murcillo: Quantum light-matter interfaces

Joseph McGowan: BEC

Kyle Thompson: Rydberg atoms and LMI

Jack Hong: BEC

Batuhan Yilmaz: entangled photons

<!LINKS TO GRADUATE STUDENTS <!

Undergraduate Students
Takahiro Tow is working with us in 2019-2020.
Chris Hudson spent summer 2019 working in our lab.
Andrew Hardy worked with us in 2018-9, and is back in 2019-2020.
Sepehr Ebadi was back working with us in 2017.
Jamie Woodbury worked with us in the winter of 2013... and then I think I didn't update this part of the web page for a few years...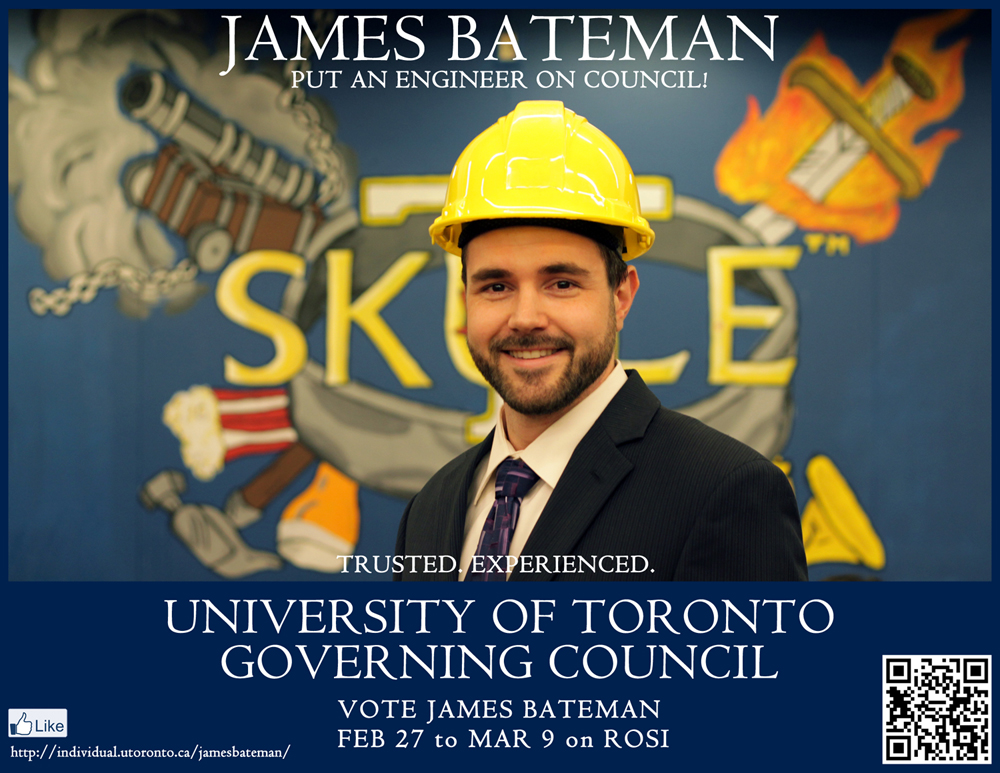 James Bateman has been working with us for 2012-2013.
Aysha Abdel-Aziz has been working with us for 2012-2012.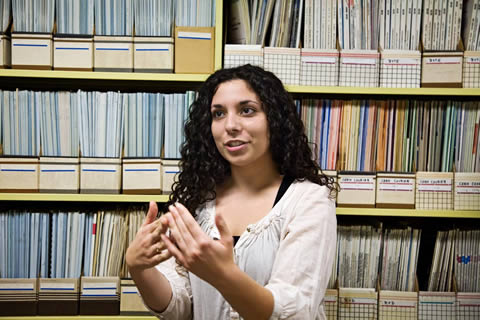 (For undergraduate research opportunities, see announcement.)

Some of our collaborators (past, present, and future)
Fabio Sciarrino
Marco Barbieri
Daniel James
John Sipe
Paul Brumer
Joseph Thywissen
Morgan Mitchell
Nicolas Godbout
Allan Griffin
Paul Kwiat
Andrew White
Ray Chiao
Peter Turner
Sasha Sergienko
J. Gonzalo Muga
Janos Bergou
Mark Hillery
Daniel Lidar
Alain Aspect
Raymond Laflamme
Sergei Kulik
Maria Chekhova
Misha Ivanov
John Behr
Ivan Deutsch
Poul Jessen
Raymond Laflamme
Terry Rudolph
Rob Spekkens
Anton Zeilinger
Rich Mirin

Former group members
Former grad students and technologist:


Ramón Ramos completed his PhD on atomic tunneling times in 2019, and has begun a postdoc with Leticia Tarruell's group at ICFO-Barcelona.

Isabelle Racicot worked on the BEC experiment through 2018, and is now moving to Marseille to work on brain imaging. Good luck, Isabelle!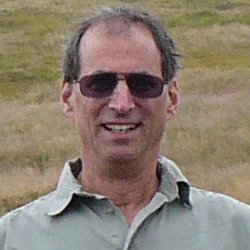 Alan Stummer (Research Laboratory Technologist) was an invaluable member of our team for many years

Qizhong Liang moved on to the University of Colorado to complete his Ph.D. on ultrafast lasers

Alex Bruening did his M.Sc. on our light-matter interaction project.

Shaun Pepper did his M.Sc. on our light-matter interaction project.

Matin Hallaji has joined the hordes of physicists at ScotiaBank, after finishing his Ph.D. in 2016.

Greg Dmochowski completed his Ph.D. in 2015, spent some time with Virgis Barzda and Brian Wilson working on biophotonics, and is now an R&D scientist at Wyatt Technology.

Shreyas Potnis did a postdoc with Amar Vutha's group in Toronto, and is now an Optical Architect at North.

Amir Feizpour was a postdoc at Oxford, and is now doing machine learning and big data at Royal Bank and with his own startup company, Aggregate Intellect.

Dylan Mahler spent several years at Bristol before returning to Toronto to join the team at Xanadu.

Lee Rozema is a postdoc at Vienna.

Rockson Chang spent a postdoc at the Institut d'Optique, Palaiseau, moved thence to Insight Data Science, and is now lead data scientist at Meetup.

Xingxing Xing, after completing his PhD with us, started a quantum cryptography company with Christian Weedbrook.

Chao Zhuang moved into finance after completing his PhD with us.

Paul Godin did his M.Sc. with us in 2011-2012.

Yasaman Soudagar: after collaborating with us during her Ph.D. with Prof. Nicolas Godbout of the Ecole Polytechnique, Yasaman held an NSERC Industrial Postdoc, and went on to found the award-winning start-up Neurescence.

Chris Ellenor: Bose-Einstein condensation and interactions with dipole barrier
(Chris did a postdoc at Stanford working on the development of novel MRI systems, and then went on to do R&D consulting with Triple Ring Technologies.)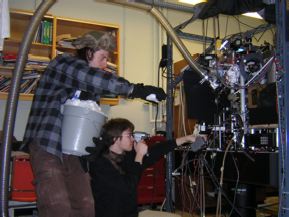 Mirco Siercke: dissertation copy-editing (Mirco was a postdoc with Rainder Dumke in Singapore, and then moved to the Molecular Quantum Gases group in Hannover)


Samansa Maneshi: Tomography and control in optical lattices (Samansa went on to a postdoc with Dwayne Miller in Hamburg)

Lynden (Krister) Shalm joined Saewoo Nam and Rich Mirin's group at NIST-Boulder (where he led one of the experiments which closed the loopholes in Bell-Inequality tests), after completing a stint as a CIFAR Junior Academy Fellow working with Thomas Jennewein and our own Kevin Resch at the Institute for Quantum Computing in Waterloo.

Zhenfu Zhang moved to Claudiu Gradinaru's biophysics group.
Sacha Kocsis, who did his M.Sc. with us, went on to do a Ph.D. with Geoff Pryde at Griffith University.
Alexandra Mech spent a 2-week "secondment" visiting us from the group of Anton Zeilinger in Vienna.

Chris Paul is now an official mountain-biking bum.
Zach Medendorp was torn between teacher's college and medical school the last time I spoke to him.
I've lost touch with Adam Weir.
Florian Wolfgramm, collaborator and sometime visitor, is still a student of Morgan Mitchell at ICFO, Barcelona.
Rob Adamson is now a research assistant professor at Dalhousie (Ph.D. 2008).
Jalani Fox Kanem (Ph.D. 2006, and then a postdoc with Ed Hinds, Imperial College, London), went to ScotiaBank, where he is toiling away to complete the destruction of the global financial markets..
Jeff Lundeen (Ph.D. 2006), after a postdoc with Ian Walmsley, Oxford, and a short stay with Morgan Mitchell's group at ICFO, Barcelona, was a Research Associate at NRC, working on Quantum Information and Metrology with Photons, before taking up a Canada Research Chair at Ottawa.
Ana Jofre (Ph.D. 2004; then a postdoc at NIST); spent a number of years as an Asst. Prof. at UNC Charlotte since Fall '07), but really an artist, and eventually returned to Toronto to complete an MFA before rejoining professorial life in the Department of Creative Arts and Technologies at SUNY Polytechnic Institute.
Stefan Myrskog (Ph.D. 2003; pdf with Joseph Thywissen, and then with Ted Sargent and Peter Smith in ECE) is now Chief Scientist at Morgan Solar.
Kevin Resch (1997-PhD 2002); did a postdoc with Anton Zeilinger, and one with Andrew White; now Acting Director of IQC and a professor in the Physics Department at Waterloo)
Jason Ng (M.Sc. 2008)
Xiaoxian Liu: Sideband engineering and adiabatic control methods in an optical lattice (M.Sc. 2007)
Masoud Mohseni (M.Sc. 2002; Ph.D. with Daniel Lidar; became a postdoc in the Aspuru-Guzik group at Harvard, and then joined the quantum machine learning effort at google)
Brock Wilson (moved to D-Wave Systems).
Fan Wang (M.Sc. 2005), switched research areas to work with Young-June Kim
Sal Maone
Reza Mir (M.Sc. 2003)
Lauren Segal (1999-2000); completed her M.Sc. and is now a mezzo-soprano with the Canadian Opera Company.
Chris Dimas (1998-9); became an optical design engineer at EFOS (EXFO)


Other former group members:

Alex Hayat, Banting and CQIQC and CIFAR postdoc with us from 2011-2014, is now a professor at the Technion.
Kelsey Allen worked with us in the summer of 2012.
Zach Vernon worked with us in the summer of 2012.
Lee Liu did his Eng Sci senior thesis with us in 2011-2012.
Benoit Cyrenne spent the summer of 2011 working with us.
Julian Schmidt and
Patrik Rath spent 2010-2011 as exchange students in our lab; both are now finishing their studies in Germany.
Assaf Bar-Natan, from the Abelard School, also volunteered in our lab during 2010-2011; he is now a student at the Hebrew University of Jerusalem.
Aleksander Kubica worked with us for the summer of 2010 on a CQIQC fellowship; he is now a student at Cal Tech.
Phil Russ worked with us for the summer of 2010 on an NSERC fellowship.
Timur Rvachov worked with us for the summer of 2010 on an NSERC fellowship; he is now a student at MIT.
Sylvain Ravets (stagiaire from ENS-Cachan)
Anselm Schultes (exchange student from Uni. Würzburg)
Boris Braverman worked with us on and off through 2010, and is now a grad student at MIT.

Luciano Cruz is now an assistant professor at UABC in Sao Paulo.

Fabian Torres, visiting "predoc" from Carlos Saavedra's group at the Center for Quantum Optics and Quantum Information, Concepcion, is now at the Universidad de la Frontera in Temuco, Chile.
Nick Chisholm is now a physics grad student with Misha Lukin at Harvard.
Eva Markowski is now a student at Harvard Law
Amanda O'Halloran
Ardavan Darabi did some excellent work with us as a Ph.D. student before moving to the UK to become a financier, art thief, and international man of mystery.
Ahmed al-Mehairi
Nick Miladinovic
Morgan Mitchell (postdoc 2002-2004; now a Research Assistant Professor at the Institut de Ciències Fotòniques in Barcelona)
Marcelo Martinelli (pdf 2003; now an Asst. Prof. at University of Sao Paulo)
Matt Partlow (postdoctoral fellow)
An-Ning Zhang went on to do a postdoc with Alex Lvovsky at IQIS and the Department of Physics & Astronomy, Calgary.
Nan Yang
Michael Sitwell
Curtis Leung
Arthur Chang
Rebecca Nie
Eugen Friesen
Christian Rewitz
Max Touzel
Sabrina Liao
Shannon Wang
Ray Gao
Alexander Thobe
Jan Hennneberger, Universität Würzburg (visiting 2004-5)
Enguerrand Menard, ENS-Lyon (visiting 2005)
Alpha Gaëtan, Univ. Orsay (visiting 2005)
Karen Saucke (2003)
Guillaume Foucaud (summer 2002); continuing at Ecole Superieure d'Optique, Orsay.
Jai Grover (summer 2001); completed his B.Sc. at Toronto, and is now a Ph.D. student at Cambridge.
David Glenn (2000-2001); completed M.Sc. at U. of T. with Prof. Daniel Lidar in Fall '02, and now completing his Ph.D. at Yale University.
Satya Ram Mishra (2000-2001); now back at the Centre for Advanced Technology, Indore, India.
David Caplan (summer 2000); completed B.Sc. UBC and now a graduate student at University of Illinois.
Laurent Lombard (summer 2000); back at ESO - Orsay.
Laure Wawrezinieck (summer 2000); back at ENS-Cachan.
Naomi Ginsberg (1999-2000); currently finishing her Ph.D. with Lene Hau at Harvard -- see Physics News Update and Nature News&Views for stories about her work; moving on to a postdoctoral position in the Fleming group at Berkeley, where she now leads her own research group in the Department of Chemistry.
Phillip Hadley (1998-2000); after working with Paul Kwiat at Los Alamos National Labs, and as a metrology engineer at CVI Laser, completed his undergraduate degree at U of T and was about to begin an internship at LAM Research until he got stopped at the U.S. border.
Sarah Karram (summer 1999; at Trent University)
Magali Davenet (summer 1999; at the Ecole Superieure d'Optique, Orsay)
Kevin Lee (summer 1998)
Jung Bog Kim (1997-8; back at the Korea National Univ. of Education)
Han Seb Moon (1997; KNUE)
Hyun Ah Kim (1997-8; KNUE)
Jason McKeever (1997-8; Ph.D. at Cal Tech -- see Physics News Update for story on his work -- then did a postdoc with Christophe Salomon before returning to Toronto as a pdf with Joseph Thywissen)
Roy Wang (summer 1997; moved to JDS Uniphase; spent some time attempting to sell his body after that didn't last; moved into sales engineering at Human Solutions after that didn't last either)
Navin Bhat (jointly with Prof. Paul Brumer during summer 1997; now a Ph.D. student with Prof. John Sipe )
Maryna Savchenko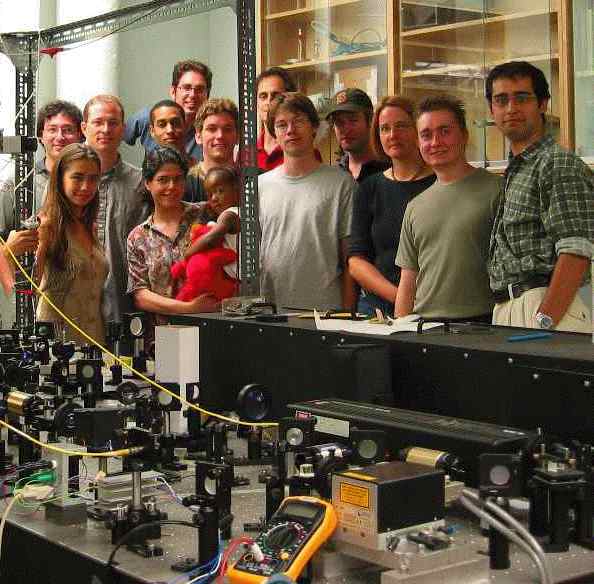 Click on photo for access to our last group-photo gallery, courtesy of Reza Mir.
Or click here for the anonymous, candid group photo.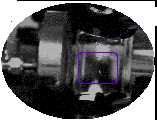 Click above to see a photo of our trapped atoms.
For more information and assorted links, see

This site is maintained by inertia, but comments may be addressed to Aephraim M. Steinberg.