PEARL's main building, the Ridge Lab, is 15 kilometres from Environment Canada's Eureka Weather Station, up on a ridge overlooking stunning Arctic fiords and waterways. At 80°N latitude, PEARL is more than 4000 kilometres (about 2500 miles) north of Toronto (43°N).
What kind of work takes a PhD candidate from U of T's physics department to an experimental lab at the northern edge of Canada? Start with climate, ozone depletion, atmospheric dynamics, and air quality.
Weaver will spend the next month conducting research at PEARL – and he'll be filing weekly dispatches from the Arctic to www.news.utoronto.ca complete with photos. Do you have a question for Weaver about his research? About what it's like to live and work where the only visitors are Arctic hares, foxes or polar bears? Email your queries to uoftnews@utoronto.ca.

You can also reach Weaver on Twitter through the @CREATEArcticSci Twitter account.

In this second instalment of our series, Weaver describes what it's like to work in the Arctic.

What does a typical day in Eureka look like for you?
We are in PEARL's labs 7 days a week during our measurement campaigns, and have long days. But we're excited about our research and the opportunity to push the boundaries of what we know about the planet.

When we first arrive, there is a flurry of activity to unpack our equipment. Many large instruments are installed at PEARL permanently, but some are brought back and forth. We also need to bring up parts for upgrading, repairing, or maintaining instruments.
(Photo below  by Dan Weaver: Debora Griffin and Paul Loewen unpack a portable spectrometer (PARIS) on day one of the 2013 PEARL campaign.)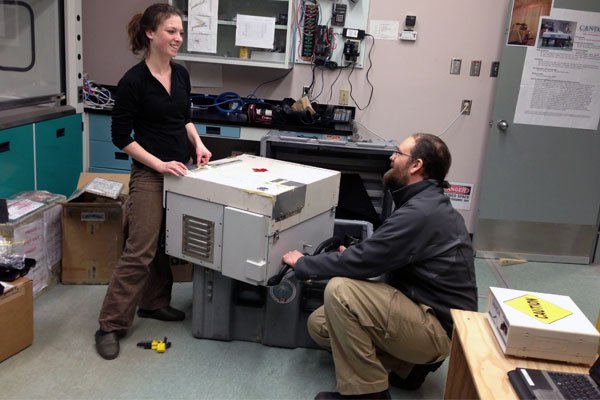 The team hits a rhythm after the first week, and some sense of routine settles in. We wake up at about 7 AM, get ready for the day, and eat breakfast at the Eureka Weather Station with our Environment Canada colleagues.

Researchers working at 0PAL (the Zero-altitude PEARL Auxiliary Laboratory) have a short walk to their lab, which is close to the weather station. Those who work at the Ridge Lab drive about 15 kilometers in a large pickup truck every morning and evening. This can be a routine half hour commute along a scenic Arctic road. Or it can be unexpectedly challenging. Only specially trained team members are permitted to drive.

Bad weather can quickly make the desolate Arctic road impassable and dangerous.

The high Arctic is a desert. There can be snowy days during the measurement campaigns, but those are relatively rare. Driving conditions are most often complicated by blowing snow and the large snow drifts they create. We must always be prepared to get stuck. There isn't regular plow service. If bad weather hits Eureka, the Environment Canada station's priority is to keep the airport runway clear – for obvious safety reasons. If we need help from them and their heavy vehicles, we may have to wait.
(Photo below by Debora Griffin.)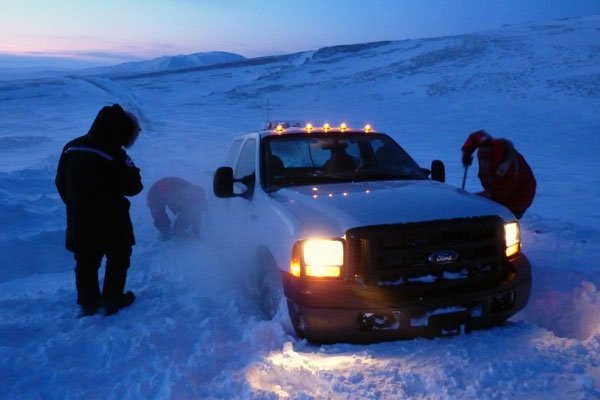 During the first week of my first PEARL campaign a couple years ago, we got stuck in the snow. There was a snow drift ahead on the road, and we thought the truck would plow through it. Waiting for the road to be cleared could take days, and we don't ask the station for help unless it's absolutely necessary. The snow drift was deeper and longer than expected, and the truck ended up plowing itself deep into it, but not through.

The truck wouldn't move in any direction. We carry shovels in the back of the pickup truck for times like these. We all got out, and started shoveling. It took a long time, but eventually the underside of the truck and the wheels were cleared out enough that we could drive back to the Weather Station. The snow-clearing trucks were sent out to restore access to the lab, but for the next couple hours, we had to wait at the station. At least we got some exercise, and had a team building experience!

It is also possible that once we are at the Ridge Lab, weather turns bad and we can't return to the Eureka Weather Station. In that case, we stay at the lab until weather gets better and the weather station can clear the road. There is a basic kitchen, emergency food supplies, and bunk beds. If something should happen to the lab building itself (we did have an electrical scare one year, which thankfully was more of a warning than a true threat), there is an emergency shelter a short walk down the road. Anyone needing regular medication must keep it on their person at all times, for safety.

In fact, we keep our special Arctic gear (parkas, boots, snow pants, gloves) on us during the flights from Yellowknife to Eureka, just in case of an emergency en route. It can be a bit cumbersome, but we don't take any chances in such a harsh environment.

(Photo below by Dan Weaver shows researchers Joseph Mendonca and Debora Griffin)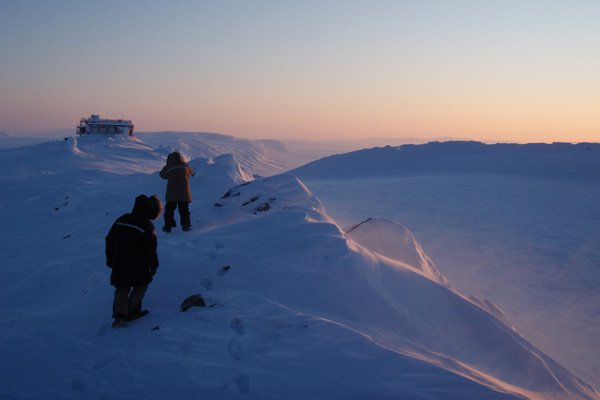 The changing sunlight at Eureka is an interesting aspect of our day-to-day life. When we arrive, it is the end of "Polar Night". There is almost no sunlight. The Arctic has been dark since late-October. One of the scientific reasons we are there at this time of year is to watch the dramatic changes in atmospheric chemistry once sunlight returns. Every day the Sun rises a bit higher and for a bit longer. At first, we only get a tiny bit of light at mid-day, and the Sun moves mostly horizontally along the horizon. With each passing day, we get more and more hours of Sun. We can watch beautiful Arctic sunrises at 11 AM, then 10:45 AM, then 10:30 AM, and so on. After a couple of weeks, the schedule is similar to back home.

After we leave, there are 12 hours of sunlight. And it continues to increase until there are 24-hours of sunlight (in mid-April), and the Sun moves in circles in the sky without ever setting below the horizon.

Once we are all back at the Weather Station at the end of the day, we eat dinner, exchange stories, and hopefully get a couple hours to relax or connect with friends and family back home. Each evening the team pools photos and instrument updates to be assembled into daily briefings for our colleagues and funding partners down south. We update the campaign website's stories and photo albums. When possible, I update the twitter account and blog. I also enjoy using the recreational room's ping pong table!

This is the second instalment of our series by Dan Weaver about conducting research in the Arctic. (Read the first instalment of the series)