Your Invitation to: The 50th Anniversary Celebration of McLennan Physical Labs and Spring Reunion 2017
McLennan Physical Laboratories, named in honor of Sir John C. McLennan, opened its doors on September 14, 1967. For 50 years this building has been home to hundreds of physicists and housed some amazing discoveries.
On this 50th Anniversary of McLennan Physical Labs, come hear about the history of the building, see some historical instruments, hear stories from the early days, and reunite with your professors and fellow students while enjoying some light refreshments.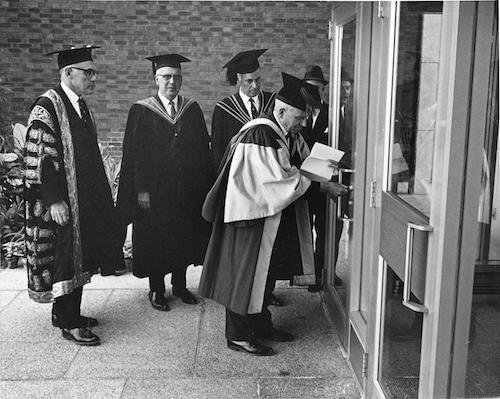 Official Opening Sept14 1967
| 2017 Events will take place on: | McLennan Physical Labs |
| --- | --- |
| Saturday, June 3, 2017 | 60 St George Street |
| 9:30am-3:30pm | Toronto ON M5S 1A7 |
Join us for one or all of the events listed below!
Historical Instrument and Photograph Display - 9:30am-2:15pm
The event will feature a display of archival photographs depicting the history of the McLennan Building. This will be accompanied by a selection of historical artifacts representing the teaching and research that has taken place in the building over its history.
Historians from the Institute for the History and Philosophy of Science and Technology (IHPST) will be on hand to discuss this historical material with attendees.
Kid's Passport U of T - 9:30am-12:30pm
You and your children can travel to a variety of faculties and departments, learning exciting facts from professors and grad students. Drop in for a morning of discovery with the kids. Especially suited to 4-12 year-olds and their grown-ups.

At Physics the children (and grown ups) will be amazed by how the world works! Come tinker with pattern formation and chaos theory. Check out everything PHYSICS from kinematics to superconductivity.
50th Anniversary Talk by Stephen Morris -  12:00-2:00pm
Hear about the history of McLennan Physical Labs from the design to the construction. The talk will  be followed by reminiscences about the early days in the Department by Emeriti who were there at the time . Come share your stories or just come and hear the stories that will be told and have some light refreshments.
Stress Free Lecture by David Bailey - "Everyone Screws up Sometimes - Scientific Uncertainty in a Post-Truth World" 2:30– 3:30pm *
* note this event will take place in Sidney Smith Hall - 100 St. George Street
Large scientific errors happen much more frequently than expected. This may be an almost inevitable consequence of how complex systems fail, but it should never discourage researchers (as well as politicians, pundits, pollsters, and the public) from constantly asking themselves "How well do I know what I think I know?".