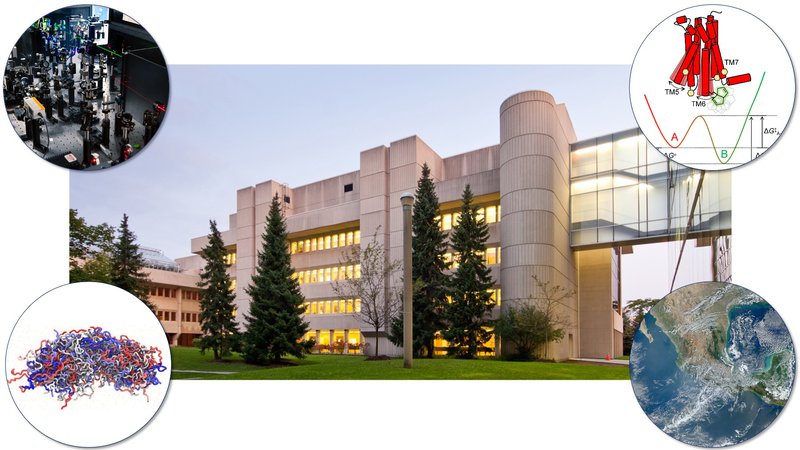 What is UTM?
Whether the research group you're interested in is based at St. George or in Mississauga, each campus provides its own distinct atmosphere in which to pursue graduate studies. Previously known as Erindale College, the University of Toronto Mississauga is one of the three campuses that make up the University of Toronto. In the past 5 years, over $20 million dollars has been invested in new and renovated laboratory space. And in 2019, construction of a new $200 million dollar Science Building began, which will also house the interdisciplinary Center for Medicinal Chemistry. Mississauga boasts its own range of restaurants and entertainment, and Toronto is easily accessible by car, UTM shuttle bus, or public transportation.
Click for a Virtual Tour of UTM
Who is at the UTM Campus?
Six graduate Physics faculty (Barzda, Gradinaru, Hilfinger, Milstein, Moore, Rauscher) with a particular emphasis on Biological Physics and Climate Science are located at the University of Mississauga (UTM) campus . There they teach undergraduate students with colleagues from Chemistry, Astronomy and Earth Science within the Department of Chemical and Physical Sciences (CPS). Our faculty are well funded, publish in high-impact journals and have won numerous awards for their research and teaching.
Where is UTM?
The University of Toronto Mississauga (UTM) is situated on 225 acres of protected greenbelt along the Credit River, 33 kilometers west of the downtown St. George campus. With a population approaching 15,000 students, UTM is continuously evolving.
FAQs
1) How do I get to UTM?
As a student, UTM is easily accessible by car or local Mississauga transportation. However, for those students who wish to live in Toronto, most students either drive or take the UTM shuttle bus.
2) Should I live in Toronto or do I need to move out to Mississauga?
This is really up to you. While many students choose to live in Mississauga, especially those who work in a lab at UTM and have to be on campus regularly, a number of students choose to live in Toronto.
3) What about my TA position?
The Department of Chemical and Physical Sciences (CPS) at UTM teaches all the courses necessary for an undergraduate physics degree. Most CPS students will do their TA work at the Mississauga campus, as opposed to downtown within the Physics department. However, students have the option of TA'ing within the Department of Physics at the downtown St. George campus as well.
4) Does UTM or CPS provide any additional support to graduate students?
A variety of complementary support is offered, both at the Departmental and Campus level, to help enrich your graduate research experience at UTM. Click here for more information.
5) How do I learn more about graduate research opportunities at UTM or come for a visit?
Our faculty are regularly recruiting new graduate Physics students. If you are interested in their research please feel free to reach out directly to any of the faculty. They can tell you about current opportunities to work in their research groups and help coordinate a visit to the campus.