M.Sc. and Ph.D. Programs
A student entering with a Bachelor's degree usually registers for the M.Sc. degree, which can be completed with or without a thesis. It includes from two to four lecture courses, depending on the individual preparation and interests of the student. Exceptional students may proceed directly to the Ph.D. after taking some courses. A completed M.Sc. is the normal prerequisite for entry to the Ph.D. program. For those students who plan to go on to the Ph.D., the M.Sc. "without thesis" is recommended; it is normally completed within one year.
Students with M.Sc. degrees from North American universities are normally accepted directly into the Ph.D.; however, it is often suggested to students who have higher degrees from other educational systems that they spend at least the first two terms of their graduate career in Toronto as M.Sc. students so that they can adjust to local conditions, investigate fully the research opportunities, and choose an appropriate supervisor. With a satisfactory performance, such students can transfer directly into the Ph.D. with little or no delay in their progress.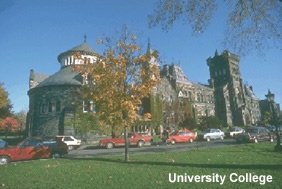 In the Ph.D. program, the emphasis is almost entirely on research. In addition, four lecture courses must be taken, though credit is given for all of those that have already been taking at the University of Toronto to fulfil M.Sc. requirements. The graduate program for each Ph.D. student within the Department of Physics is monitored by a "Supervisory Committee" consisting of the Ph.D. student's research supervisor and two other professors in the Department who have a specialized knowledge of the area of research. This Committee, convened by a Departmental representative, gives each student an oral Qualifying Examination within eight months of entry to the Ph.D. program. The goal of this examination is to assess the ability of the student to perform and carry out a proposed program of research leading to the completion of the Ph.D.
After obtaining approval for a Ph.D. program, the candidate meets once a year with the Supervisory Committee to report on research progress. When the candidate has prepared a thesis, the Associate Chair for Graduate Studies chairs an oral Departmental Ph.D. Examination. After this is successfully completed, the candidate moves on to a final Ph.D. defense involving an external appraisal of the thesis and an oral examination by the School of Graduate Studies. The time for completion of the Ph.D. degree is approximately four years.
More details on the M.Sc. and Ph.D. programs can be found in the department's Graduate Student Handbook.
Student life in the Department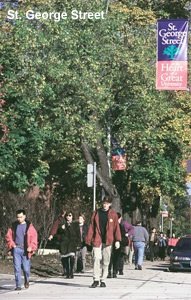 Many students choose their research supervisor before they arrive. This is required for students entering directly into the Ph.D. program, but is certainly not for those entering the M.Sc. program. On arrival, students who have not chosen their supervisors are encouraged to talk with as many professors and graduate students as possible, so that they can make an informed choice of both supervisor and research topic. Many groups hold weekly seminars concerned with recent developments in their area of research. There is also a Departmental Colloquium every Thursday afternoon during the regular academic year, at which leading physicists from around the world provide an expert view of advances in the most interesting fields of physics.
Graduate students participate in most activities of the Department and are represented on many of its committees, including the Gender Issues Committee and the Graduate Liaison Committee (GLC). The GLC, chaired by the Associate Chair for Graduate Studies, consists entirely of graduate students representing the different areas of research. It advises the Department on a wide variety of issues of interest to graduate students, performs annual graduate course evaluations, initiates many new proposals, serves as a sounding board for Departmental and University matters, and compiles the Department's Student Handbook. The Physics Graduate Students Association (PGSA), which has a representative on the GLC, sponsors student seminars, social activities, and sporting events within the Department. More details are available from the Graduate Student Handbook, Other Items of Interest section.
Teaching Opportunities
Each year over two thousand undergraduates attend physics courses in the Department. In every year of their graduate program, graduate students are offered the opportunity to work as a Teaching Assistant in one or more of these courses. Teaching Assistants at the University of Toronto are unionized, and conditions of pay and employment are excellent. Positions are available as Tutors, Laboratory Demonstrators, and Markers, with a wide variation in the number of hours assigned to each.
The Department has always placed great importance on the quality of its undergraduate teaching. Many of its faculty have received university-wide teaching awards, and several have received provincial and national acknowledgement for their contributions to higher education. The teaching contributions of its graduate students have been a vital component in maintaining this excellent reputation, and each year several of our best Teaching Assistants receive the prestigious Van Kranendonk Teaching Award. For over ten years, introductory training sessions have been offered to starting Teaching Assistants, and each course supervisor provides ongoing direction throughout the academic year. In addition, Woodsworth College, with the cooperation of the School of Graduate Studies, offers a pass-fail course entitled Teaching in Higher Education, which is taken by many graduate students in their senior years.
It is generally recognized that graduate students require the experience of teaching to round out their studies and to strengthen their credibility in the work place. At some point during their studies virtually all graduate students in physics choose to benefit from the excellent opportunities available at the Department.
There are also opportunities at the Department for research in physics education. Interested physics graduate students, and candidates for admission to the graduate program, are invited to inquire about the possibility of pursuing graduate studies in this area.
Financial Support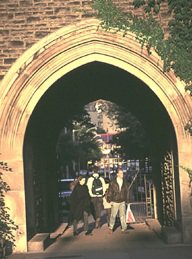 It is the policy of the Department that all graduate students who are making satisfactory progress receive adequate financial support. This may come from external or internal scholarships, and/or research grants. A small part of the income of most graduate students come from their role as Teaching Assistants, discussed above. For our current financial support guidelines, consult our Graduate Student Handbook, Financial Support section.
The Department of Physics at the University of Toronto welcomes applications from good physics students for admission to its graduate program. For more information, please write or email:
The Graduate Administrator
Telephone: 416-978-2945
Email: kbiel@physics.utoronto.ca
FAX: 416-978-1547