Welcome to the Fall 2023 issue of Interactions, the Department of Physics newsletter!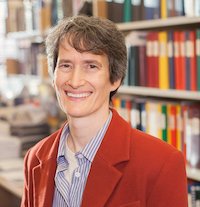 Dear Physics community,
I'm pleased to introduce our Fall 2023 Newsletter, another full issue showcasing the latest happenings in the Department of Physics. As usual, we introduce our newest members, profile several others, and say good-bye to a few faculty and staff. We have so much exciting news to share with you — from research highlights to congratulations to our June 2023 PhD graduates and other awards and recognitions.
With very best wishes,

Professor & Chair