Welcome to the Emeriti Profile where we ask one of our emeritus faculty questions about their careers and what they have being doing since retirement. Is there a faculty member that you recall from being a student and are you wondering what they are up to? Do you have fond memories of a certain instructor? Tell us who they are and we will try and connect with them for an update.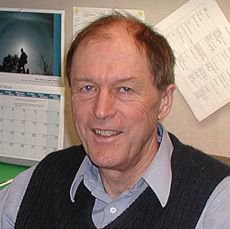 How many years were you a faculty member?
I was a Lecturer and a Research Associate since 1965 and was hired as an Assistant Professor on January 1, 1966. I retired in July 2000.
Can you tell us about your educational background from your undergraduate degree to your PhD? BASc Engineering Physics U of T 1960, MASc Electrical Engineering U of T 1961, PhD Physics University of Cambridge 1964. I started my education in Engineering, but became interested in solid state physics during a summer job in 1960. I took a solid state physics course, taught by Professors Archie Hallett and Malcolm Graham, during my MASc program and got so interested in the field that I did my PhD program in physics, at U of Cambridge.
What was your PhD on and why?
Attenuation of Sound in Superconductors. When I began my PhD studies in 1961, there was a great deal of interest in studying superconducting materials in the light of the microscopic theory of super conductors published 4 years earlier by Bardeen, Cooper and Schrieffer (BCS). Among other predictions, the BCS theory provided an interpretation of the decrease in attenuation of ultrasonic waves in metals below the superconducting transition temperature and allowed for deduction of the superconducting energy gap from such measurements. At the time I was starting my research, there was particular interest in transition metals, and I carried out attenuation measurement in niobium, which has the highest superconducting transition temperature of all elements. I also performed ultrasonic attenuation measurements on tin to characterize the anisotropy of the energy gap in this tetragonal metal.
What kind of physics did you teach? And why? I taught a range of physics courses from introductory first year courses to graduate courses in solid state/condensed matter physics. I especially liked to teach first year courses, and I always tried to teach in a way that focused on understanding concepts and principles. Most of my undergraduate teaching was done on the Scarborough Campus of U of T, while my graduate courses were taught on the St. George Campus.
What are your fondest memories of being a faculty member in the U of T Physics Department?
I have many good memories of the Department, but one that stands out is the friendliness and cohesiveness of the Experimental Condensed Matter group. Especially in the early days we always had lunch together and had occasional social dinners; we always met to reach a consensus on matters that affected the group.
How has the Physics Department changed since you were a faculty member?
Although the Department has always been one of the premier physics departments in Canada, it has steadily aimed for higher standards, both in research and teaching, throughout the time that I have been a member.
What have you been doing during your retirement?
After two years of retirement I was recruited to be Acting Dean of Science for the University of Ontario Institute of Technology (UOIT), recently re- branded as Ontario Tech University), which was to open its doors in 2003. I was responsible for the initial hiring of faculty and staff, and design of research and teaching labs. Although I did not want to start a new full-time career, I worked part-time for UOIT until 2013 in a variety of administrative posts. It was a very rewarding time, as I saw a new university arise from 943 undergraduate students in 2003 to over 10,000 graduate and undergraduate students.
Anything else you would like us to know or share?
Throughout my years with the Department of Physics, I have always felt a high level of support for my career and my well-being. The Department feels like a family! I know that is not true in some other departments at U of T.