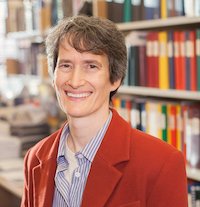 Dear Physics community,
Another eventful term is coming to a close. We started off the year with a return to virtual classes due to the Omicron variant, then moved back to in-person teaching after Reading Week. The University is gradually opening up again and we hope that sixth wave recedes soon. Here in the Department, we are working our way through interviews for six faculty searches and looking forward to recruiting some new colleagues.
We are excited to be hosting the annual Welsh Lectures in person from May 4 to 6. Nigel Goldenfeld from the University of Illinois and Jeff Dahn from Dalhousie University are this year's speakers – all are welcome to attend their public talks and colloquia. Then on May 12, Nicole Yunger Halpern from NIST and the University of Maryland will be giving a public lecture about her book on Quantum Steampunk and how quantum physics is transforming our understanding of information and energy. Also, if you missed this year's J. Tuzo Wilson Lecture in February, given by Catherine Johnson from UBC, her talk about the magnetic fields of terrestrial planets is available at https://tuzowilson.physics.utoronto.ca/.
In January, we were very pleased to welcome two new members to the Department: NuRee Lee joined us as Physics and Astronomy Librarian, in a joint appointment between the Department of Physics and the David A. Dunlap Department of Astronomy & Astrophysics, and Arman Molki is the new Director of Physics Learning and Research Services. The Newsletter includes an interview with NuRee Lee, as well as profiles of EAPP Research Associate Heba Marey, EHEP PhD Student Matthew Basso, and Physics Specialist and Math Major Muhammad Mohid. Our Emeriti Profile features condensed matter physicist John Perz, who retired in 2000, but then spent more than a decade helping to establish the University of Ontario Institute of Technology. Our Alumni Profile introduces David McDonald, who put his physics degree to good use in multiple roles, particularly in the forest industry.
The Research Spotlight in this issue is on Laurelle Veloce and the upgrade of the inner tracker for the ATLAS experiment at the Large Haldron Collider at CERN, a major initiative that the Department's ATLAS group is actively working on. As always, research highlights and other stories can be found at Physics News.
Congratulations to our fourteen November 2021 PhD graduates and to Milica Banic, who is the recipient of the 2022 Xanadu Award for an Outstanding Publication by a PhD Student for her paper "Generation of photon pairs by stimulated emission in ring resonators". Physics students and faculty continue to garner awards and recognitions, including an Editors' suggestion in APS Physical Review Applied for a paper by Xiaoqing Zhong, last year's winner of the Xanadu Award, although for a different paper! Amar Vutha's Canada Research Chair was renewed; Jason Harlow is the recipient of a 2021-2022 Faculty of Arts & Science Outstanding Teaching Award; Hoi-Kwong Lo was recognized as one of the most productive and impactful authors in the field of quantum cryptography; and Yong-Baek Kim was awarded both a 2022 Simons Fellowship and a Guggenheim Fellowship. In addition, Qinya Liu has been promoted to the rank of Professor, Tenure Stream and Jason Harlow has been promoted to the rank of Professor, Teaching Stream, both effective July 1, 2022. Congratulations to all!
Our 2021-22 Physics Career Accelerator Program (physCAP) will soon be wrapping up. There were 49 mentor/mentee pairs this year, with several networking and career events held earlier this term. The Newsletter also highlights two Outreach in Action initiatives. One is our Pursue STEM program to encourage Black and Caribbean students to pursue studies in science, technology, engineering and math, which is now in its second year. A new cohort of 39 grade 10 students joined 32 returning grade 11 students at the launch event in February. Six of the latter presented their 2021 capstone projects at the BE-STEMM conference organized by the Canadian Black Scientists Network, and Gigi Adetunji and Shornelle Halsted won the Founders Award for Outstanding Senior Science Fair proposal for their "smart mask"! Also highlighted is the Canadian Association of Physicists High School Exam Workshop, which was revived by Professors Ania Harlick and Ziqing Hong, along with ten U of T students, as a virtual event held in March and attended by 30 enthusiastic high school students.
Upcoming outreach events include the Science Rendezvous virtual street festival on Saturday, May 7, and Doors Open Toronto tours of some areas of the McLennan Physics building on May 28 and 29.
We have two upcoming retirements to mark in this issue: David Bailey and Stephen Morris are retiring on June 30. Both have contributed to the life of the Department in many ways over the years, especially to our undergraduate program and outreach initiatives. We hope to be able to celebrate them and other recent retirees in person this year.
With a lovely tribute by Henry van Driel, we remember Robin Armstrong, who passed away in December. Between 1969 and 1990, Robin served the Department of Physics as Associate Chair and Chair, and the University as Dean of Arts and Science, before being appointed President of the University of New Brunswick. Robin was a major figure in the Department and in Canadian physics, and is greatly missed by his colleagues and former graduate students.
You may recall from the Fall Newsletter that we are establishing the new Momentum Builders Scholarship to encourage greater diversity in physics by supporting Black and Indigenous students. I'd like to thank everyone who generously responded to our Fall Appeal. Donations are still welcome and will increase the number and value of the scholarships we can award. Please consider making a donation to support a new and diverse generation of physicists.
As always, we welcome your feedback on Interactions – please contact our Editor, Sheela Manek, at newsletter@physics.utoronto.ca with your comments and news.
I wish everyone a healthy, happy, and restful summer.

Professor & Chair