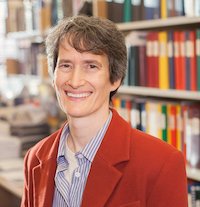 Dear Physics community,
Welcome to the Spring 2020 issue of Interactions, the Department of Physics newsletter!
I write this message just after the winter term has ended and with the summer term now underway. Trees and flowers are blossoming around campus, but with UofT's transition to remote learning and working from home, few people are there to enjoy them. It has been an extraordinary two months for the Department of Physics, as it has been everywhere. Congratulations to all of our students for making it through despite the challenges they faced this term! And a heartfelt thank-you to everyone who has worked so tirelessly to keep the Department's teaching, research and operations going amid complex and rapidly changing circumstances.
To read more about the Department's response to the COVID-19 pandemic and recent news highlights, please see the
I hope you enjoy the stories below, which highlight exciting news from the Department of Physics. Please keep in touch, and I hope you and your loved ones are staying safe and healthy during this time.
With very best wishes,



Professor & Chair