"Where did my physics degree lead me?"
A reading 1/2 credit on turbines was appropriate mechanics for my aviation Commercial Pilot License out in Vancouver, an area which is proactively green even though the physics department said renewable energy was dead. I'm a Flight Instructor, so now I get flight hours without handing over my vein. Now, that's what we do for our apartments. Aviation is none too different. You should take up piloting, Prof. Strong, it's so fun.
Meteorology actually matters when you're deciding whether the weather will allow you to live. And then there's flight mechanics. I never learnt how the car worked until the engine went inside a plane. They do a lot of advanced psychology for aviation. It's quite impressive how our 2D brains fool us in the 3D world. You have to rely on your instrument training. You never know where your life will lead. Follow your dreams and don't give up. When you make a different and bold choice you'll turn the corner onto a completely new outlook, something you never predicted.
Elaine Morrison 0T2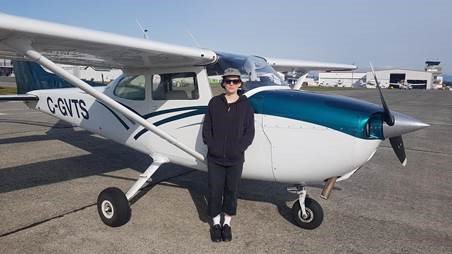 Dear Professor and Department Chair Kimberly Strong:
Thank you very much for including me in your mailing of the fall 2019 issue of "Interactions". This establishes a welcomed connection that is inspiring for me and reading this issue has guided me back along memory lane to recall so many of the professors and other people who made my time there quite special.  My time there was from 1971 to 1977 (7T5 Trinity and from there to Massey until 1977).
The many newsletter categories cover a memorable assortment of tales and updates that I have enjoyed reading. The Profiles, Alumni News, Conferences, Awards and Scholarships, and Outreach in Action (to name only a few) cover the broad scope that is appropriate for a large active physics department.
In the newsletter some of the named faculty I recall with great fondness and appreciation such as Professors Stoicheff, Welsh, van Kranendonk and Wilson. Professor Stoicheff was my master's thesis advisor and Professor Welsh taught me what I know about molecular spectroscopy.  Professor van Kranendonk taught me the rigor of classical mechanics and classical electromagnetism. I was pleased back in 1975 (having just recently joined Professor Stoicheff's research group) when Professor Wilson showed great interest as he stared at my laser light diffraction display at the Ontario Science Centre where we staged the city's first laser light show. It was an ambitious undertaking then and a fun way to start for a young graduate student.
After seven years in Kyoto, Japan I have been a visiting faculty member in the Physics Faculty of the Ludwig-Maximilian University in Munich, Germany (since 2014). With my travels ongoing since leaving Toronto in 1977, I am delighted that "Interactions" has finally caught up with me. Please keep it going and keep on sending. It is a wonderful and worthwhile outreach undertaking. I much welcome the news.
Best Wishes,
Paul R. Bolton, 7T5