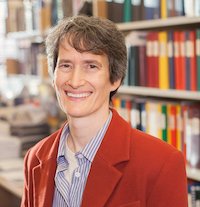 Dear Physics community,
Welcome to the Spring 2020 issue of Interactions, the Department of Physics newsletter!
I write this message just after the winter term has ended and with the summer term now underway. Trees and flowers are blossoming around campus, but with UofT's transition to remote learning and working from home, few people are there to enjoy them. It has been an extraordinary two months for the Department of Physics, as it has been everywhere. Congratulations to all of our students for making it through despite the challenges they faced this term! And a heartfelt thank-you to everyone who has worked so tirelessly to keep the Department's teaching, research and operations going amid complex and rapidly changing circumstances.
We began contingency planning in early March, and on Friday the 13th, President Gertler announced that the University was cancelling all in-person classes in response to the outbreak of COVID-19. Over the next few days, instructors converted more than 6000 courses to an online format, while the week of March 16th saw a rapid transition to working at home and preparations for the shut-down of lab-based research operations on Friday the 20th.
Here in the Department, our course instructors did a fantastic job in moving nearly all of our 44 winter courses online, and teaching remotely for three weeks, ensuring that our students were able to complete the term. They were joined by our teaching assistants who ably continued to play a vital role in many of our courses. They were also supported very effectively by our dedicated technical and administrative staff.
While the closure of our labs is certainly having an impact on research in the Department, our graduate students, postdocs, RAs, and faculty have been adapting. The Physics Graduate Office successfully moved PhD qualifying exams online and we've had a record number of graduate offers accepted for September. Summer undergraduate research students are "arriving", joining supervisors who have been able to offer projects that can be done remotely.
Our staff are doing an excellent job in supporting the smooth operation of Departmental business while working from home. I would especially like to thank our CAO Peter Hurley for the tremendous work he has done to transition the Department to the "new normal". We have offered to make some of our technical services available for COVID-19-related research, and were pleased to have been able to contribute 20,000 pairs of disposable gloves as part of a University-wide effort to provide protective equipment to hospital partners.
As we head into the summer term and start looking ahead to the fall, there remains much uncertainty. However, the University is moving from crisis management mode to "restart and recovery" and a lot of thought is going into next steps, for health and safety, undergraduate teaching, graduate student support, research, operations, and more. I am sure we will continue to work together to address the complexity and challenges that still lie ahead. COVID-19 information and resources for the U of T community can be found at https://www.utoronto.ca/message-from-the-university-regarding-the-coronavirus.
Even without all the additional activity associated with COVID-19, much has been happening in the Department since the fall, including quite a few arrivals and departures. This issue includes an interview with our newest faculty member, condensed matter physicist Thomas Scaffidi, who arrived last August. We are now looking forward to the arrival of Zhan Su, a new Assistant Professor in theoretical and computational ocean dynamics and climate who will join us on June 1st; his profile will be featured in a future newsletter.
We are delighted to welcome Carolyn Sealfon and Brian Wilson as Lecturers; both started on May 1st and bring extensive experience in physics education and physics education research. Two staff members have also joined our ranks: Bob Amos as the Department's newest machinist, and Michael Manley as the Department's new Manager, Finance and HR Administration.
The arrival of a new staff member usually results from the departure of another, in this case, the retirements of machinist Mark Aoshima and Finance Officer Ilda Cunha. After 45 years in the Department, Ilda's retirement marked the end of an era. She worked with ten Chairs – not quite as many as the Queen with her Prime Ministers, but close! We also said good-bye to Raul Cunha, who anchored our Graphics Support Services for many years, and to Librarian Dylanne Dearborn, who is starting a new job as Research Data Management coordinator for the UofT Library.
We were deeply saddened by the sudden and unexpected passing of Natalia Krasnopolskaia in January. Natalia was a valued member of our teaching staff for 18 years and is greatly missed. You can read about Natalia and her accomplishments in an accompanying tribute written by Jason Harlow. We are renaming the Summer Undergraduate Research Fellowship (SURF) in her honour.
To introduce you to some other members of the Department, the newsletter includes profiles of Physics Specialist Eegene Clara Cheung, PhD Student Shira Jackson, and Post-Doctoral Fellow Karola Dette. Our Alumni Profile highlights Kirsten Vanstone, class of 9T4, who is a custodian of the Royal Canadian Institute archives.
There was a wealth of research news to choose from for Interactions and in the end, we decided to include all of our recent stories. We hope you enjoy reading about everything from icicles to neutrinos, a quantum start-up to a satellite instrument, hydrodynamic electrons to quantum spin liquids, and much more.
While COVID-19 resulted in the cancellation of Physics Colloquia, the Welsh Lectures, and on-campus activities planned for the spring and summer, there were plenty of events in the fall and winter. These included the Physics Mentorship Program, our Physics Career Accelerator Program, the 2019 J. Tuzo Wilson Lecture, and visits from several high school classes. One highlight was the 2020 Canadian Conference for Undergraduate Women in Physics, which our undergraduate students hosted in January. It was great to see 130 enthusiastic delegates from across the country attending talks and workshops and visiting our labs. Congratulations to all of the UofT undergraduate students involved in making this such a successful event!
With this issue, we have moved Interactions to an electronic format that is accessible and (we hope) more visually appealing, linked to the new Physics website that is currently under construction. However, the PDF version is still available for those who prefer it. Please send us your feedback and your news at newsletter@physics.utoronto.ca. We are always happy to hear from you!
With best wishes,



Professor & Chair