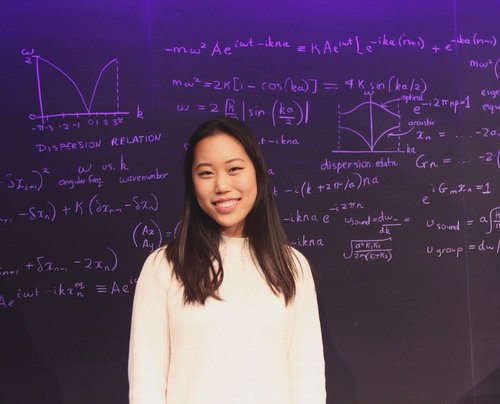 Why did you decide to major in Physics? What was your inspiration?
It was a decision kind of out of nowhere. I went to an arts-specialized high school and seriously considered pursuing a degree in music but I wanted to try something new. I've always been interested in the origin of the universe, what things are made of, the Big Bang, special relativity etc. My scope of physics knowledge wasn't quite wide back then. I was mostly inspired by my father, who does physics education and my brother, who went to U of T for math and physics. I guess I wanted to know what all the fun was about in physics.
What do you enjoy most about the physics program?
I just love the physics itself. But the rigor that the physics courses are taught and the wide range of undergraduate research opportunities that are available were really what made me realize this. It may be stressful during the school year, but when I take a step back and think about how much I have learned, it gives me the chills. I also love doing physics research, and without so many opportunities that were accessible to me through the department and the program, I would have had a harder time realizing this. In particular, I really value my first research experience through the SURF program founded by Prof. Natalia Krasnopolskaia, who was also my supervisor for the project. As a first year student, it was an incredible first exposure to physics research that I would have not been otherwise able to experience elsewhere with such little physics knowledge.
What other extra-curricular activities are you involved in during your degree?
In my first year, I became in charge of organizing a high school physics competition called the Canadian Young Physicists' Tournament (CaYPT), which was a newly formed national platform for the much more renown International Young Physicist's Tournament (IYPT). Founded in 1988, the IYPT garnered the attention of many European physics education communities by its unique approach to a research-based physics competition. Leading up to the actual tournament which resembles a cross between a debate, a PhD defense, and a strategic game of some sort, the high school students form teams of 3-5 and tackle 17 open ended everyday physics problems.
They spend several months coming up with mathematical models investigating these relevant parameters, designing and carrying out experiments, analyzing the data, and putting together a presentation of their solution. During the tournament, the teams present their solutions and critique other teams', and the level of understanding and the quality of the debates are graded by a Jury of international physics experts.
This year I had a new commitment in hosting the Canadian Conference for Undergraduate Women in Physics (CCWUiP) 2020 here at the Department of Physics. Along with the two co-chairs, Kaitlyn Liang and Emily Knuckey, and the rest of the executive team, we worked tirelessly for almost an entire year to make this conference come to life. The conference had a special meaning to us, because it put forward the issues that were important to us such as the struggles that we personally face as women and a minority in physics. The conference was designed to provide a safe and inclusive environment for the underrepresented members in the physics community including women, LGBTQ+, persons of colour, and those with accessibility needs to discuss ways of combating issues such as sexism, racism, mental health, and imposter syndrome. Of course, physics was, by nature, the most prominent topic: the delegates attended plenary lectures and panel discussions focused on physics and careers that one can pursue with a physics degree, as well as have the opportunity to present their research via a poster presentation or a talk. In addition, to fully commit to the safety and inclusive concerns, we implemented a strict single-bed policy for the hotel accommodations we provided, which was not in place before nor is present at most conferences. However, being in downtown Toronto, this was not cheap – the committee is incredibly grateful for the Dunlap Institute in helping us to actually achieve this goal without compromising the quality of the conference. Organizing this conference was by no means a smooth ride. From smaller things like registration troubles and juggling school work with conference work, to bigger things like our special guest, the Minister of Science and Education, suddenly being unable to attend the conference, booking rooms for the wrong date, and Toronto's weather which seemed to have saved up all its snow for that particular weekend. But compared to the past years' CCUWiP troubles which include flooding, the troubles we have faced were quite minimal and were handled extremely well by the competent committee. The conference was all in all, a complete success, with delegates personally coming up to us to tell us how much they were enjoying it and how much they've learned from it. (Please see page 16 for more on the CCUWiP)
Apart from these rather large scale extra-curricular activities, I like to volunteer for the outreach events held at the department, such as Science Rendezvous and Doors Open Toronto.
Outside of physics, I played the flute with the Wind Symphony at the Faculty of Music in my first year, played the flute and piccolo as the Assistant Principal of Hart House Orchestra in my second year, and in third and fourth year, taekwondo with the UTTO. I have been meaning to get my ARCT in flute performance, sporadically getting lessons from Prof. Camille Watts (Faculty of Music & TSO). Though lately, it has been put on hold indefinitely.
What are your research interests?
I am interested in condensed matter physics.
What is your favorite course and why?
I absolutely loved Prof. Hae Young Kee's Atoms Molecules and Solids (PHY358) course. I was already extremely interested in quantum mechanics, but what made me truly appreciate it was its applications to the everyday life. Through this course I realized I was interested in the quantum mechanics of objects around me, but how these abstract theories have real and observable consequences, such as a material's electric or magnetic properties, was what really got me into condensed matter physics.
What are your future plans? Where do you see yourself in 10 years?
I am going to pursue a PhD in physics then we'll see from there! I love research, so whether it be researching as a professor at a university, as a researcher at an institute or a national lab, or in industry, I see myself doing research in or related to condensed matter physics in the near and far future. Hopefully in 10 years, I have figured out which of these I am doing.