Physics Mentorship Program Launch Party - November 13, 2019
The launch party for the Physics Mentorship Program was held last November. Undergraduate physics students are paired up with alumni, faculty or graduate student mentors in this valuable program. Mentors provide students with career and academic advice throughout the academic year.
The 2019-2020 Physics Mentorship Program wrapped up in March 2020 and 49 pairs of mentors and mentees participated in the program.
It was another successful year for the program. Here is what some mentees had to say about what they liked the best about the program:
I had a mentor to talk to when the academic term got rough and seek advice from, for example, regarding managing time and stress.
The mentor works in the area I am interested in. So he can give me most recent and accurate information that cannot be known from other sources.
It connects student (at the beginning of a journey) directly to people who have reached the goal. By sharing their experience and giving advice mentors help avoiding the obstacles.
How appropriate the pairing of my mentor and I was. How there were so many opportunities outside of my talks with my mentor in improving other aspects of my job hunting experience (the mentor parties, the LinkedIn workshops, etc.).
physCAP Career Events
The Physics Career Accelerator Program or physCAP organized two career enhancing events for undergraduate students this past year. The purpose of these events was to show students what they can do with a degree in physics. Physics alumni with various career paths sat on a panel and shared their career stories with students and answered a wide variety of questions.
Professional Schools Event November 27, 2019
The Professional Schools Event invited speakers with undergraduate degrees in physics who applied to Professional or Graduate School after their physics degrees. For example, in the photo above from left to right David Han (Dental School), Jane Dong (Master in Management and Innovation), Kristen Cote (PhD Experimental Quantum Optics) and Felipe Morgado (PhD in Medical Physics Faculty of Medicine's MD/PhD program.
Career Event January 30, 2020
The Career Event invited speakers with undergraduate degrees in physics who are working in fields that students may never have thought were possible with a degree in phyics. For example, from left to right, Kirsten Vanstone (Science Communication), Daniel Badali (Consultant), Peter Hurley (CAO of the U of T Physics Department) and Stephen Leonard (Entrepeneur).
---
2019 Tuzo Wilson Lecture
The 2019 Tuzo Wilson Lecture was held on November 19, 2019. The speaker was the new J. Tuzo Wilson Professor Qinya Liu. As per tradition, the newest J.Tuzo Wilson Professor delivers the first talk at the start of their professorship. The lecture was titled: Exploring the Earth's Interior by Seismic Wavie
The Isabel Bader Theatre was full with members of the physics community as well as members of the public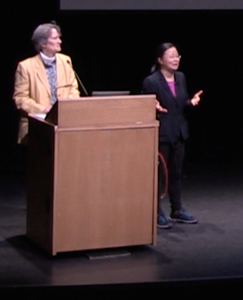 (Left to right - Chair Strong and Professor Liu)
When asked what it was like to deliver the first lecture of her professorship, Professor Liu told us:
"It was exciting to deliver my first public Tuzo lecture and see our colleagues, students and old friends of the departments come together to hear more about earth science and commemorate the long-lasting scientific legacy of Prof. J. Tuzo Wilson. I will start to organize future Tuzo Wilson Lectures in the next four years. We welcome any suggestions of speakers from our community and will try our best to bring more exciting earth science to UofT."
---