Retirement - Machine Shop
Mark Aoshima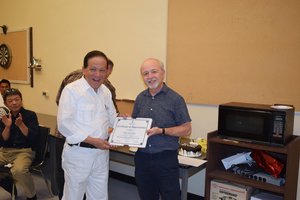 Congratulations to Mark Aoshima on his recent retirement!
As a long-standing and valued member of the machine shop, Mark made a wide range of scientific instruments for researchers across the Department of Physics.
Mark trained at Hammamatsu Vocational Training Institute in Japan and he then developed his skills at the NTN Bearing Company, where he made the machines that made some of the highest precision bearings in the world. After coming to Canada he continued to work for NTN in Mississauga and then moved on to other machine-manufacturing companies, including Questa Design, where he made equipment for geophysical exploration, and JIT Automation.
Mark joined the Department of Physics in 2005 and immediately brought his love of precision machining to bear on a wide range of projects. His extensive experience made him an excellent collaborator for students and staff, he was always eager to suggest design improvements and to find better solutions to our problems. Those of us who worked frequently with Mark got into the habit of bringing him rather vague designs, in which the purpose was (hopefully) clearer than the drawing and letting him suggest improvements. This produced much better results than relying on our own design ideas.
In his quest for the ultimate precision, Mark always asked for the best possible tools and his bench in the workshop was a well-organized Aladdin's cave of machine tools, specialized metals and prototypes for projects he had made over the years.
Mark's work contributed to the success of many research projects in the Department and his cheerful smile and machining skills will be missed.
Mark, we wish you the best for a long and happy retirement.
Written by Professor Stephen Julian.
Retirement - Finance
Ilda Cunha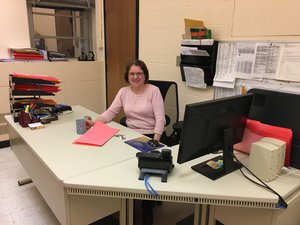 Ilda Cunha, a well-loved member at the Physics Department for 45 years retired in January 2020.
Professor Mike Luke described Ilda and her contributions to the Department at a celebration held during the December Holiday Party. His speech is below.
When Kim Strong announced at a faculty meeting in the fall that Ilda was going to be retiring at the end of the year, an audible gasp arose amongst the assembled faculty. I think the truth is, none of us had really ever contemplated living in a post-Ilda world. Ilda is an institution.
Ilda started at U of T and Physics on July 1, 1975. She initially worked in the Main Office, which at that time handled much more of the Departmental finances.
After various promotions in between, in 1986 she took over her current position, and over the following years both she and her position were regularly promoted together - that is, the role of financial officer in Physics got increasingly more complex, and her position was continually upgraded in response.
By the time she retired, Ilda and her team, Aloma and Lisa, processed ten budget plans each year, along with more than 100 research grants, almost $2 million in operating budget recoveries, 7 trust accounts, 7 Canada Research Chairs and payroll for 41 faculty, 45 post docs and research associates, 36 staff, more than 50 summer students and casuals, and over 42,000 financial transactions and purchase orders. Despite this workload, Ilda's budget reports, budget analyses and her supporting documentation were invariably impeccable.
Most people in the Department know Ilda as the person who makes sure they get paid, solves their grant problems and generally makes sense of their financial life in the Department, but I'd like to especially thank her on behalf of one group who have had a particularly close relationship with her - Department Chairs, past and present. She's been through a lot of us - Dick Azuma, Mike Walker, Derek York, Tony Key, Pekka Sinervo, Henry van Driel, me, Dick Bailey, Stephen Julian and now Kim Strong - you may have noticed in her office she has a poster of all of us, our heads mounted on her wall, like trophies.
She also has a secret door into the Chair's office, which I think is a great metaphor for the relationship.  She never let me miss a deadline - even if that meant hovering behind me from her secret door - and I think I speak for all of the Chairs when I say thank you for making our jobs so much easier.
A few years ago we nominated Ilda for a Dean's Outstanding Administrative Service Award from the Faculty of Arts and Science (which, of course, she won). As part of that, I gathered testimonials from people she worked with, and to conclude, I'd like to read a few of them:
"I cannot imagine a better performing Finance Officer … She is simply superb at what she does, and I think the university should continue to do everything in its power to continue to support her in her current role."
"Whenever there is a problem related to my funds, I speak to Ilda first because I know that I will get an explanation – and solution – I will understand … I simply cannot imagine a better performing Finance Officer."
"She has never been anything but generous with her time even when seemingly inundated with pressing deadlines."
"She always keeps her calm and good humour. She has absolute competence in everything I am aware of. I rely on her constantly."
Also, from someone in the Dean's office, "I wish we had someone like her in our office."
I wish Ilda and Raul all the best in their retirement!
Retirement - Graphics
Raul Cunha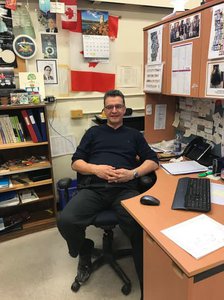 March 31, 2020 – End of an era
By Peter Hurley
Chief Administrative Officer - Department of Physics
Today marks the end of an era in graphics services in the Department: this is Raul Cunha's last official day.
Although there are many people in the Department who are BaE (Born after Excel, 1985) and BaP (born after PowerPoint, 1987), in times gone by all of the graphs, figures and illustrations in scientific publications were drawn with pen and ink, and talks were presented with physical slides created by a photographer.
He came to the University as a draftsperson, and started as a graphics artist assisting in the preparation of scientific figures for publication.
Shortly after starting, he was asked to take responsibility for setting up physics experiments and classroom demonstrations as part of a reorganization. Foreshadowing his career-long commitment to meeting the needs of the Department, he took up the challenge, despite misgivings due to his lack of technical training. Demonstrating great perseverance and resiliency, he was soon indispensable to the teaching mission, extending his responsibilities to providing audio-visual support, and eventually to assisting as a laboratory technician in evening sections in teaching laboratories.
Raul never abandoned graphics, and by the early 90's he returned to being a full time graphics artist. Working with cartographer and colleague Khader Khan, he contributed to numerous theses, scholarly publications and books. In the period before desktop computers he used various forms of physical media to create professional illustrations from rough sketches, data, and text, for both printed and live presentations.  While attending a geophysical conference as a student in the early 80's, I had a casual conversation with an executive of a major oil company.
He commented that geophysics presentations from the University of Toronto were instantly recognizable by the consistent quality and style of the slides and illustrations. He wondered how this was achieved.  The answer: the team of Khan and Cunha.  Raul's hand-drawn work has appeared at hundreds of conferences around the world and has provided a definitive visual statement about the high standards that are set by the University of Toronto.
The late 90's brought a new and major challenge to Raul.  After many years of skillful use of physical media, he was caught up in a wave of desktop computer technology.  Raul responded by embracing the new methods and becoming expert in a number of visual arts tools.  By Y2K the emphasis had shifted from creating illustrations to refining images created by clients, assisting in providing formats compatible with publishers, and producing teaching materials suitable for electronic distribution and use in electronic classrooms. With the retirement of Khader Khan in the early 00's, Raul became solely responsible for graphics services, and continued to adapt to the changing environment by becoming an expert in producing the large format posters that are now a critical element in the dissemination of research results.  He was also quick to grasp the market for poster printing, and took the initiative to offer services to the entire University.  In his last full year here, Raul has printed more than 1000 research posters.
While Raul's accomplishments over the years have been very important, his value to the University derives from his attitude and the exemplar he represents to those around him. When the Department asked him to take on technical responsibilities that he felt ill prepared for, he accepted, and became proficient through hard work and ingenuity. When emerging technologies made carefully developed skills obsolete, he acquired new skills to meet new needs. It should be no surprise that such long term commitment has been equally evident in his day-to-day activities. Clients learned that he would do everything possible to help meet their objectives. When editors need a figure changed while he was on holiday, a few emails result in a new figure delivered on time. During conference season it was not unusual for a half-dozen students to show up late on Friday for posters desperately needed by the weekend. They never left disappointed, even if the final poster was printed late into the evening. It was not possible to work with Raul without being inspired by his energy and determination to do the best job possible.
Finally, I believe that Raul's greatest strength has been his demeanor.  While always respectful of others, he has a quick wit and cheerful nature that makes him a pleasure to work with.  While the quality of his work is beyond reproach, I believe that the repeat business he enjoyed, the testimonials that he has received, and the awards he has earned (Physics Department Outstanding Technical Service Award in 2005, Dean's Outstanding Technical Service Award in 2013) have been due as much to his personality as to his commitment to service.
Departure - Library
Dylanne Dearborn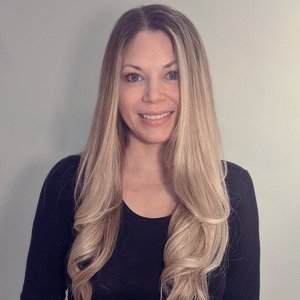 It is with mixed feelings that we congratulate Dylanne Dearborn, our Physics Librarian, on her new job as Research Data Management coordinator for the University of Toronto Library system. We are of course delighted for Dylanne, because this is a richly deserved promotion, but we are sad to see her leave the Physics Library.
Dylanne has been the Physics Department Librarian since 2011. She come to us soon after completing her Master's Degree in Information Studies at the University of Toronto and brief stints in the Gerstein Library and the A.D. Allen Library in the Department of Chemistry.
Dylanne has published several scholarly articles on research faculty data preservation practices and how journal policies impact these practices. Her expertise in this field will now be available to the wider University.
Dylanne has been a strong advocate for a more central role for the Physics Library within the Department as a hub for learning and interaction and she has been instrumental in developing ambitious new plans for the library as an interactive space.
In her new position Dylanne will be based in the Map and Data Library in Robarts Library.
The good news is that Robarts is close enough that we look forward to inviting Dylanne back for the grand opening of the renovated library space, when it happens.
Congratulations once again, Dylanne!
Written by Stephen Julian.
Dylanne has very kindly agreed that staff and faculty can continue to contact her for help during the hand-over to her replacement, a transition that may be quite extended in these uncertain times.
Appointments
Carolyn Sealfon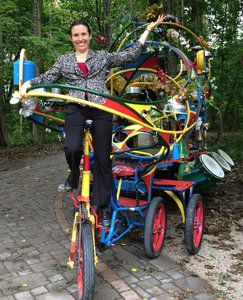 Has been appointed as a part-time (75% ) Lecturer
With more than a decade of experience in innovative post secondary instruction, Carolyn Sealfon's mission is to foster decision making based on scientific reasoning and compassion. After completing her PhD in theoretical cosmology at the University of Pennsylvania, she taught and advised undergraduates as an Assistant Professor of Physics at West Chester University. Her integration of evidence-validated active learning approaches caught the interest of Princeton University's Council on Science and Technology, who then recruited her as their first Associate Director of Science Education. In this role, she consulted for faculty on courses to meaningfully engage all undergraduates in science and engineering. In the past three years, she has deeply enjoyed collaborating with colleagues and TAs here at U of T to scale inquiry-based approaches that foster scientific habits of mind to the hundreds of diverse students in the PHY 131-132 introductory physics sequence. Her current research interests as a Ronin Institute Research Scholar apply her background as a physics education research (PER) practitioner and Bayesian cosmologist to learning analytics. Other interests include singing, theatre, lindy hop and qigong.
Appointments
Brian Wilson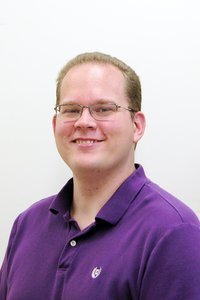 Has been appointed as a part-time (75% ) Lecturer
Dr. Brian Wilson has been a sessional lecturer in physics at both the St. George campus and the Scarborough campus of the University of Toronto since 2010. He received his Ph.D. in physics from the University of Toronto in 2009.
His original research interests were in general relativity, but he is now focused on physics education research. He is currently interested in practicals and laboratory courses and how these can be improved to help students become more confident in their ability to design experiments and more capable of analyzing their data fully.
Arrival - Machine Shop
Bob Amos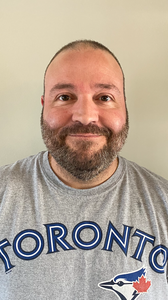 Bob Amos is the Department's newest machinist.
Bob has many years of experience working in the industrial, automotive and nuclear industries and his skills include CNC programming and operation, mill and lathe work and general machining. He also has over 3 three years of experience supervising and training co-op students and apprenticeships.
The skills and experience he brings will be a valuable asset to the Department, greatly enhancing the machine shop's capabilities.
We look forward to receiving the benefits of his work which will support and enhance teaching and research in the Department of Physics.
Arrival - Finance
Michael Manley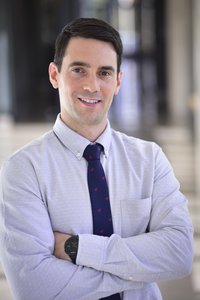 Michael Manley is the Department's new Manager, Finance and HR Administration.
He joins us from the University of Toronto Scarborough, where he worked for several years as the Research Operations and Financial Officer in the Office of the Vice-Principal Research and he was responsible for the overall financial and operational management of the Office. Prior to that, he worked at the Hospital for Sick Children for eight years, where he was a Business Analyst in the Research Awards and Financial Services division, looking after budgets for research grants and core facilities.
With his experience in the academic, health science, and also the financial sector, Michael is well suited to taking on the management of the Department's financial and human resources.